Three Key Westchester County Appointments Announced by Astorino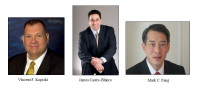 County Executive Rob Astorino has announced three key appointments to his administration in the areas of Public Works and Transportation, Human Rights and Consumer Protection.
Vincent F. Kopicki, an engineer with 30 years of public and private sector experience, has been named commissioner of Public Works and Transportation; James Castro-Blanco has been named Executive Director of the Human Rights Commission, a role he will take on in addition to his current responsibilities as Chief Deputy County Attorney; and
Mark C. Fang has been named Director of Consumer Protection, which he moves to from the Human Rights Commission where he had served as Executive Director.
"Good government requires good management, and these three individuals are all seasoned professionals with broad experience in both the private and public sectors that will benefit all of our residents," said Astorino in announcing the appointments. "I am also proud that we are continuing to create dynamic career paths within county government, which allows us to attract and retain the best people and put their talents to the best uses."
Kopicki is a lifelong Westchester resident and graduate of Manhattan College. He comes to county government from the New York City Department of Environmental Protection, where he was a senior manager. Previous to that he supervised capital projects for the City of Yonkers, as well as a multi-jurisdictional construction project in New York City for Lockheed Martin. He also has a decade of experience managing facility and transportation operations from when he served as director of engineering and capital projects for the Roosevelt Island Operating Corp.
Castro-Blanco is an experienced attorney and administrator, who has been an assistant dean and adjunct professor of Law at Saint John's University and worked for the law firms of Shearman & Sterling LLP and Wilson Elser LLP. In addition to his years of public service with Westchester County, Castro-Blanco prosecuted federal crimes as an assistant United States attorney in the Eastern District of New York. Castro-Blanco has served as president of the largest Hispanic bar association in the Northeast, worked extensively with non-profits and professional organizations, and received numerous honors, including the Westchester Hispanic Chamber of Commerce Trailblazer Award and the Westchester Hispanic Law Enforcement Association Award. He received his bachelor's degree from State University of New York at Albany and his Juris Doctor from Brooklyn Law School, where he was articles editor of the Law Review.
Fang is a lieutenant colonel in the Judge Advocate General Corps of the United States Army Reserves and a veteran of Operation Enduring Freedom, having served on active duty from 2004–2005 with the Army's 10th Mountain Division in Fort Drum. He previously served more than four years as Executive Director of the Westchester County Human Rights Commission, appointed by Astorino in May 2012. Prior to his appointment to the Astorino administration, Fang served as an assistant attorney general with the Criminal Division of the New York State Attorney General's Office and as an assistant district attorney in Westchester County. Fang was also counsel to the Consumer Affairs Committee of the New York City Council. He earned his bachelor's degree, Phi Beta Kappa, from Tufts University and his Juris Doctor from the Georgetown University Law Center, where he was a member of the American Criminal Law Review.