Thousands Show Support for Education Tax Credit
We are part of The Trust Project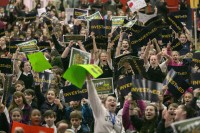 Some 5,000 parents, students, and teachers from Westchester and surrounding communities rallied last week at the Westchester County Center in White Plains to support New York's proposed Education Investment Tax Credit. The bill would boost contributions to public schools programs and scholarships for students looking to attend parochial and other private schools.
The Westchester rally came on the heels of an April 2013 rally at the First Niagara Center in Buffalo at which more than 10,000 students and educators called for the Education Investment Tax Credit's passage in Albany.
Emceed by Pastor James Hassell of Kingdom Baptist Church in Yonkers, the White Plains rally attracted students from more than 60 schools in Westchester, Bronx, Putnam and Rockland counties.
The bill would increase funds in two areas: donations to public schools, school districts and teacher-driven projects; and scholarships to help low- and middle-income students attend religious and other tuition-based schools. The total increase on donations from this bill would grow to $300 million per year, divided evenly between public school needs and scholarships for students to attend private schools. It would accomplish this objective by creating a new tax credit for those who make a charitable donation for educational purposes.
According to promoters of the bill, students from low-income and middle-class households would benefit directly from up to $150 million in annual charitable contributions to nonprofit scholarship organizations providing tuition assistance. Additionally, donations to public schools and public school districts would be increased by the same amount, making it easier for public schools to enhance their programs without additional reliance on property tax payers or state aid.
The bill would also give public school teachers a first-ever New York State income tax credit when they spend their own money on classroom supplies, up to $100.
"This is one of those opportunities every public official yearns for, which is a win for everyone involved – teachers, public schools, religious schools and, most importantly, children, families and our society. The Education Investment Tax Credit will help our communities and our society grow stronger, it will help reduce inequality and provide opportunity for children in our state for decades to come," said State Senate Democratic Leader Andrea Stewart Cousins (D-Westchester).
"These kinds of rallies are an important reminder that many families in Westchester and across the state support sensible legislation to ease the burden on working families," said Justin Brasch, SAR and Westchester Day School parent, Attorney, Member of the Citizens Budget Advisory Committee ("CBAC") of Westchester County, and a White Plains Democratic District Leader. "We are seeking to increase support for public and non-public education. It's a political win-win, as it will help all children in New York State."
The "Invest in Education Rally" was co-sponsored by the Roman Catholic Archdiocese of New York, the Orthodox Union Advocacy Center, the NYS Coalition or Independent & Religious Schools, the Business Council of Westchester, the Children's Scholarship Fund, The Jewish Education Project, Lutheran Schools Association, and the Archdiocese of New York Catholic Schools.
The Education Investment Tax Credit legislation passed the State Senate last year by a bipartisan vote of 55-4, and is drawing growing support in the State Assembly.  The Assembly bill (A.1826) has more than 100 sponsors in the 150-seat chamber.
The bill is also supported by numerous labor unions, including the Police Conference of New York, the NY State Troopers, the NYC Firefighters, the NYPD PBA, the NYS Court Officers, OPEIU (an AFL-CIO affiliate), and the Archdiocesan Federation of Catholic Teachers.