We are part of The Trust Project
The Thornwood Coach Diner is a mainstay in the local community, relied upon by many as a convenient destination for a meeting, a place for a delicious quick bite or to catch up with friends.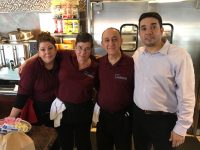 In March, partners Stefan Stefanopoulos and his mother-in-law, Dina Rentoulis, purchased the eatery and are excited to keep longtime customers and new patrons happy.
"We are trying to please everybody," said Rentoulis, who comes from a family of Yonkers diner owners.
Stefanopoulos, who grew up in the Bronx, also has family roots in the diner business. Together the pair combines the tried and trusted methods of running a quality diner based on Rentoulis' lifelong experience in the business with the newer, more tech-savvy mechanisms of running a modern-day establishment.
Mindful of customers' dietary needs and preferences, there are the customary Greek dishes such as spinach ie, Greek moussaka and chicken souvlaki.
But there also are entries with a wider appeal. Items like the grilled chicken Oriental sandwich with onions, green peppers, mushrooms, and Teriyaki sauce; a chicken parmesan and lasagna combination; and a barbeque chicken and barbeque rib dish are all popular. The fried seafood combination of filet of sole, shrimp, scallops and fried clams and the broiled honey lime salmon, are also in high demand, Stefanopoulos said.
For $11.99, customers can order the Thornwood Short Bites platter, which includes mozzarella sticks, chicken tenders, buffalo wings, and potato skins. There is also a pita pan sampler for $13.99 and quesadillas filled with a choice of cheese, vegetable, chicken or skirt steak, each at varying prices.
There are also the fries, a staple at any diner. Customers can choose from waffle fries, disco fries, seasoned curly fries, pizza fries, sweet potato fries, and Greek fries.
Like many other diners, Thornwood Coach has a varied menu that includes breakfast items, gourmet salads, tasty sandwiches, wraps, burgers, entrees, and desserts. A children's menu is also available.
The diner's list of drinks includes a variety of wines by the glass, its signature cocktails and beer.
For seniors, there's incentive to visit Thornwood Coach Diner. On weekdays between 2:30 and 5 p.m., a special includes a cup of soup or salad; a choice of entrée that includes meatloaf, Chicken Francaise, eggplant parmigiana and many other selections; dessert (ice cream, Jell-O, pudding or cookie); and coffee or tea. The senior special is $13.49.
The diner also offers daily lunch and dinner specials.
While the transition to new ownership was fairly seamless, Stefanopoulos said several structural changes were made to the building. There's a new roof, a repaved parking lot, an updated computer system and new lighting. Employees, most of whom have well over a decade of service at the diner, were retrained.
Stefanopoulos is excited about bringing Thornwood Coach Diner into the 21st century by attracting new customers through social media.
Rentoulis said she will continue to bring her years of experience to the business.
"This really is a family business with everyone pitching in," she said. Stefanopoulos' wife Christina often lends a hand and brings in the couple's two young children as well.
Given that the conveniently located diner has been in Thornwood for 50 years and is a popular meeting place, Rentoulis said she is excited to bring the expertise and know-how of her family to their latest venture.
"It's my children's dream to run a diner," said Rentoulis. "That makes me proud that they wanted to follow in our footsteps."
Thornwood Coach Diner is located at 50 Kensico Rd. It is open Sunday through Thursday from 6 a.m. to midnight and Fridays and Saturdays from 6 a.m. to 2 a.m. Call 914-769-8844 to place a catering order. There will be an online ordering service in the near future.
Colette Connolly is a copywriter and p.r. expert. She owns Connolly Communications, which is based in Bronxville, New York. Colette specializes in providing content-rich, SEO-optimized press releases, articles, newsletters, brochures, and customer success stories.