Obituary Reports the death of an individual, providing an account of the person's life including their achievements, any controversies in which they were involved, and reminiscences by people who knew them.
We are part of The Trust Project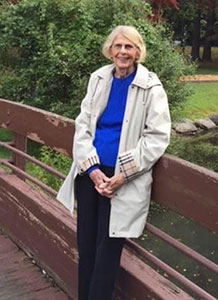 Thomasine C. Williford passed away peacefully on Jan. 8 surrounded by her loved ones. She was 88.
Thomasine was born on Jan. 15, 1934, in Port Jefferson, N.Y., the daughter of Thomas and Madeline Orr.
In addition to her parents, Thomasine was predeceased by her beloved sister, Marilyn Loprete, and her partner of over 35 years, Phillip Wagner. Surviving are Thomasine's son, John H. Williford Jr. and wife Katherine, daughter Jamie Williford Giesea and husband John, and Scott Williford and wife Jeanette. She is also survived by seven grandchildren, John Alden, Natalie and Luke Williford, Julianna Fischer and husband Scott and Caroline and Nicole Williford. Thomasine is also survived by three great-grandchildren, Juliana Marie and James Thomas Fischer and Jack Williford.
Thomasine possessed a fabulous personality. She had a sharp wit and enjoyed hearing others laugh. She loved to travel throughout Europe and especially loved the British Virgin Islands with Phil. Thomasine was a beautiful style icon and waited patiently each year for the September issue of Vogue magazine. She was as brilliant as she was beautiful. Thomasine was a master wordsmith and loved the Sunday New York Times crossword puzzle and Book Review.
She also loved nature and wildlife and was an active member and supporter of the New York Audubon Society. She enjoyed watching the birds outside and could identify each species. She also enjoyed seeing the leaves change, particularly so the vibrant reds of her Japanese maple tree in the fall along with the pink of the cherry blossoms in the spring. She was always excited to share this with all who came to her home.
Thomasine was an animal lover and a member of the American Humane Society. She had numerous dogs through the years and took great pride in their training and grooming. She was an avid tennis player and enjoyed weekends of tennis and socializing at the Armonk Tennis Club.
Thomasine cherished her entire family.