This Column About Nothing Spotlights Several Significant Somethings
Opinion Advocates for ideas and draws conclusions based on the author/producer's interpretation of facts and data.
We are part of The Trust Project
I hesitated for a full minute before pulling the trigger on this column, but then after a gulp of early
Saturday afternoon
espresso, I said to myself, "Self, if the show about nothing is good enough for Seinfeld, the column about nothing is good enough for me."

Listen, after last week's almost 10,000-word reporting-based opus on Optum/CareMount, I needed a breather.
With that in mind, I figured I'd take you through my week of indecision, and why and how I whiffed on finalizing a column about something by deadline.
Tuesday/Wednesday 
On Tuesday morning, our print distribution day, I had mercifully granted myself some permission to just shoot from the hip when it came time to write this week's installment of Stone's Throw.
That said, once last Wednesday rolled around, and a new production cycle arrived, I'd regained some strength.
Late in the afternoon that day I had a fascinating Zoom meeting with fellow New York State newspaper publishers and a prominent national political figure.
The topics at hand were the Local Journalism Sustainability Act (LJSA) as well as the Journalism Competition and Preservation Act (JCPA).
The LJSA is a series of tax credits supporting the local journalism ecosystem while the JCPA allows news publishers to collectively negotiate with Facebook and Google for fair compensation for the use of our content.
Passage of one or both bills could be difference makers for our beleaguered industry, helping to fortify independent local news outlets across the state and the country.
Nice, I initially thought, I had a jumping off point for a column.
But all the details discussed at the meeting were off the record.
So much for that idea.
Thursday Morning
Anyhow, I was feeling almost totally refreshed by Thursday, and I met with the owner of the brand new Youtherapy Medspa in Chappaqua, at the spa's 91 Bedford Rd. location.
I got to know Dr. William Greenberg, who has a long-established location in Scarsdale.
In the meeting, I learned of Greenberg's love of photography, saw some of the breathtaking images he's captured in his travels, and we bonded about our joint fondness for the old Bruce's of Great Neck bakery, as a pair of former Long Island guys.
I wondered to myself whether Greenberg's story of entrepreneurship – he's a world-renowned cosmetic physician, with rich experience in tech enterprises as well – might be good fodder for column copy.
But I was unable to reconnect with Greenberg by deadline.
Out of luck on that one too.
Thursday Night 
By the time later Thursday arrived, after regular work hours, I met briefly with Mount Kisco Little League board member Jeff Harwitz at the Bare Burger parking lot.
The Examiner is a longtime league sponsor, and I needed to get the banner in Jeff's hands, before Saturday's Opening Day parade festivities.
Hmm, I wondered, maybe I could prepare a piece that talks about the magic of youth baseball, interview a few relevant sources and link it all back to some personal remembrances of playing in the Police Athletic League while growing up in Port Washington.
That type of lighter tongue-in-cheek fare is all well and good, but it just wasn't grabbing me for this week.
I also had some more serious stories to consider as I wrestled with what to spotlight here today.
More Mid-Week Brainstorms
A follow-up on my Optum/CareMount report remained a long shot option for this week's column topic.
For instance, as I mentioned in our Examiner+ e-mail newsletter a few days ago, I'd contacted Gov. Kathy Hochul's press office, seeking comment on the piece's central findings.
For those who missed it, last week's investigative column centered around a grieving stillbirth mother, Rachel Krause, who got discharged from care, along with her husband Sam Newbold, after she legally requested her pregnancy records last summer from the medical group.
Rachel and Sam's harrowing story provided a heartbreaking account of one family's experience with our deeply troubled local health care system.
"Governor Hochul has prioritized both maternal health and the well-being of children and families throughout her tenure, and she will continue working with the legislature to address these issues and support those impacted," Deputy Communications Director Justin Henry told me in a prepared statement last week, after my piece published.
Well, OK, but that didn't really answer a bunch of questions I'd asked about any potential new policy the governor might or might not be considering to address a variety of concerns chronicled in the coverage.
No word back yet on my follow-up questions either.
Moving on.
In Other News
Amid all this last week, I also stumbled upon a potentially fascinating local news nugget.
Apparently, an area police department (unnamed for now) banned a Twitter follower after the local resident posted some mild public criticism.
But the guy who got banned has not gotten back to me so I haven't yet contacted the police department for comment, although the basic facts don't appear to be in dispute.
Too bad on that one for now as well.
Friday Twitter Check — on Saturday  
By Saturday, before I sat down to tap out this week's column, I saw how local Twitter fiend Sid Mehta had tagged me in a post the prior day about former President Trump's most recent financial disclosure, obtained by Citizens for Responsibility and Ethics in Washington, or CREW, a nonprofit organization.
The disclosure listed the valuation of Trump's Seven Springs property here in northern Westchester at $50 million.
The question of whether that figure is vastly overstated is relevant to New York Attorney General Leticia James' current civil lawsuit against Trump, where he's accused of financial fraud and falsely inflating his net worth by billions. (In a public statement, one of Trump's lawyers, Alina Habba, insisted "there is absolutely no case." The former president sat for a related deposition last Thursday.)
The Seven Springs financial disclosure details seemed like the type of national news tidbit that could get lost in the avalanche of world events.
Game-time Decision
I almost convinced myself I'd be able to transcend the rules of time and space, and crank out a week's worth of phone interviews in a few hours for a Seven Springs deep dive.
Thankfully, I snapped back to reality just in time to remind myself about a family birthday party on Sunday.
I then stepped away from the screen for a moment, thought of this idea, had that aforementioned gulp of Saturday afternoon espresso and started in on today's column about nothing.
I guess I just needed more time to settle on something.
Not that there's anything wrong with that, as Seinfeld might say.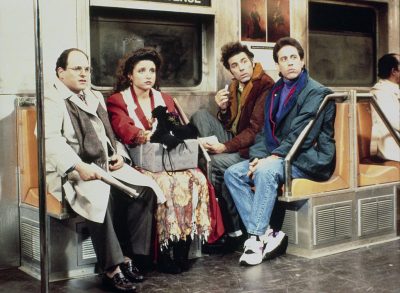 (If I should've just taken the week off, let me know at astone@theexaminernews.com).