The Tarrytown Seniors Honor Alyce N. Coqueran with Scholarship Awards
We are part of The Trust Project
On Monday, June 3, at Sleepy Hollow High School, the Tarrytown Seniors remembered the late Alyce N. Coqueran by presenting two $500 scholarships in her name, at the Sleepy Hollow High School Awards ceremony.
Alyce Coqueran was a lifelong resident of Tarrytown, who worked as the Site Manager of the Tarrytown Nutrition Program for Seniors for the Town of Greenburgh for 15 years, while retiring in 2006.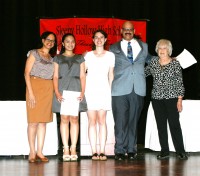 The Alyce N. Coqueran Scholarships were created after her passing on December 29, 2012, through donations in her name to the Tarrytown Seniors, as requested by The Coqueran Family.
This year's Alyce N. Coqueran scholarships were presented to Sleepy Hollow seniors Tricia Guarin and Natalie LaRue, for their academic achievements and community service.
The Tarrytown Seniors were represented at the Sleepy Hollow Awards ceremony by Elaine Kosloff and Anna Zambelletti. "I feel that the money donated in her name went to a very good cause because Alyce was always for education. Alyce was loved, loved, loved by the seniors and was our best friend," emotionally expressed Kosloff.
In addition to the two Alyce N. Coqueran scholarships, The Tarrytown Seniors displayed their support for academics and community service by awarding three more $500 scholarships, at the Sleepy Hollow Awards ceremony.
The three additional Tarrytown Seniors Scholarship Awards were presented to seniors Marco Ricchiuti, Elizabeth Pisapin and Maddy McGovern.
I am proud to acknowledge that Alyce Coqueran was my dear mother.