The Rex Pizza & Lobster, Hartsdale
We are part of The Trust Project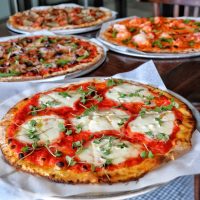 The Rex Pizza & Lobster, a new restaurant concept from Long Island native and entrepreneur, Jonathan Otto, opened in Hartsdale at 247 North Central Ave. in the late spring this year.
With fall weather encouraging outside activity, the call to seafood dining is in the air and can be had at this upscale setting at moderate prices.
The Rex Pizza & Lobster is a fast-dining restaurant; where patrons can enjoy thin-crust pizza along with an assortment of dishes including the restaurant's signature lobster roll, lobster a la vodka pizza, house-made meatball sandwich and more.
The restaurant's tender, flavorful lobster is always fresh, never frozen, and is sourced daily from Maine. It is delivered sea to plate in less than a day. The Rex's thin-crust personal pizzas are made-to-order and fast-fired in under three minutes. The restaurant also features an inviting bar with a variety of quality wines and craft beers.
Otto hired leading restaurant designer, Peter Niemitz, to create the space with an emphasis on authentic, timeless materials, including a tin ceiling, wood floors, custom tile design, marble bar and countertops, globe lighting and an eye-catching red banquette.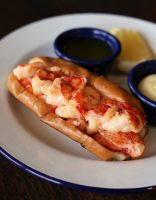 "We are excited to join the Westchester community," said The Rex Pizza & Lobster's owner, Jonathan Otto at the restaurant's grand opening. "My lifelong love of exceptionally delicious food in a beautiful, casual environment inspired The Rex Pizza & Lobster. We wanted to create an ambiance that reflects the same quality as the food we serve. Customers of all ages will enjoy an upgraded dining experience that does not feel rushed."
The Rex Pizza & Lobster is the sister restaurant to Long Island's The Rex Burger & Lobster, which is home to the area's top-rated lobster roll. Otto and executive chef, Charlie Keller, spent two years traveling the country tasting America's most craved foods to perfect both restaurants' menus. Chef Keller, a graduate of Johnson and Wales College of Culinary Arts now serves as both general manager and executive chef at The Rex Pizza & Lobster.
The Rex Pizza & Lobster is open daily from 11 a.m. to 10 p.m. and is available for pick-up and delivery; 914-607-3594; 9146073594 or visit www.therexpizzaandlobster.com.