The Restaurant Examiner: Lobster and Corn Fritters a Favorite Recipe of Café of Love Owner
We are part of The Trust Project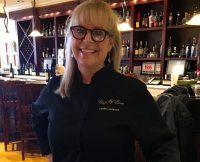 No cuisine is off limits for Café of Love, which changes menus about every 10 weeks with dishes from around the globe.
Owner Leslie Lampert has always been passionate about soup. Before opening Ladle of Love in Mount Kisco in 2003, she served her homemade soup to dinner guests, families of friends who were ill with cancer and, in 2001, to Millwood volunteer firefighters, who went to help at Ground Zero and relatives of victims.
But Lampert enjoys concocting new dishes. One of her favorites is lobster and corn fritters. Here is her recipe and directions for the dish.
Ingredients (Please Note: Some of the measurements in this recipe have been corrected from the print version – 2T chives and 1T butter are the correct amounts.)
1-lb. lobster
1/3 cup fresh tarragon
½ cup mayo
Salt and freshly ground pepper
1 cup all-purpose flour
½ teaspoon baking powder
½ teaspoon baking soda
¾ cup buttermilk
1 large egg, separated
1 ear corn, kernels cut off cob
2 tablespoons minced chives
1 tablespoon unsalted butter, melted
Vegetable oil
Directions
Plunge the lobster in a large pot of boiling water and cook until bright red (5 to 6 minutes). Cool, remove meat, coarsely chop and refrigerate.
Chop tarragon and fold into mayo. Season with salt and pepper and chill until ready to serve with fritters.
In a large bowl, whisk the dry ingredients together. In a separate bowl, whisk buttermilk with egg yolk. Add wet ingredients to dry, stir gently and fold in lobster, corn, chives and melted butter. In another bowl, whisk egg whites to soft peaks and fold into batter. Heat two inches of oil to 350 degrees.
Drop a heaping tablespoon of batter into the pot and fry, turning once, after about two minutes. Transfer the golden fritters to a paper towel-lined baking sheet and season with salt. Serve with tarragon mayo (and lemon wedges).
About the owner
Lampert, who also owns Ladle of Love (takeout only) and Love on the Run (off-premise catering), was once one of America's leading food writers. A senior editor at Ladies' Home Journal, writing food features was one of her responsibilities.
But she liked making soup at home for her fledgling gift basket business so much that she decided to give up journalism to pursue a career in the food business. This "re-invention of herself" was brought to the attention of a vast television audience on The Oprah Winfrey Show in 2008. That same year she won a Forbes Enterprise Award for Ladle of Love.
Lampert earned a bachelor's degree from Skidmore College and a master's in journalism from Boston University, her hometown. She lives in White Plains.
Café of Love is located at 38 E. Main St. in Mount Kisco. For more information, call 914-242-1002 or visit www.cafeofloveny.com.