The Restaurant Examiner: Corned Beef and Cabbage at Demeter's Tavern & Sports Bar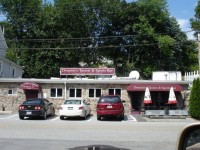 Demeter's Tavern & Sports Bar in Tarrytown will serve its famous corned beef and cabbage all day on Saint Patrick's Day, Thursday, March 17.
To help prepare and cook the traditional corned beef and cabbage, co-proprietors and brothers Stephen and Donald Demeter enlist the aid of their mom Connie every year. "The same passed-down family recipe is used every year," Donald said.
Food service at Demeter's will begin at 11 a.m. A limited menu will be available with additional dishes. Reservations will be accepted for parties of six or more but otherwise it is first come, first served.
Opening-day March Madness NCAA collegiate basketball coverage on television will be available. Demeter's has 14 TV sets.
The bar/eatery was opened in 1947 by Frank Demeter, Sr., and his wife Elizabeth, and for about 25 years its name was Glenville Tavern. Stephen and Donald became co-proprietors in 1990. A major renovation took place in 2006.
Street parking (there are no parking meters on the street) is plentiful along Old White Plains Road.
Demeter's Tavern & Sports Bar is located at 51 Old White Plains Road,Tarrytown, NY, 914-631-9679.