The Restaurant Examiner: Cookies, Cancer Fundraiser, New Restaurant in White Plains
We are part of The Trust Project
Cookie Baking Author to Speak at Chappaqua Dessert Shop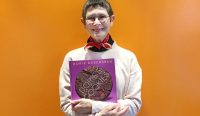 Author Dorie Greenspan will reveal some of her cookie baking tips this Sunday, Nov. 20 at sherry b dessert studio in Chappaqua in a talk entitled "Cookies & Conversation."
She will also introduce her newly published book, "Dorie's Cookies," a more than 500-page cookie baking guide.
A question-and-answer session will follow the talk moderated by Sherry Blockinger, owner of the dessert shop. A book purchase and signing by the author is included in the program. Greenspan's talk is the latest event in a series of guest appearances by food- and art-related speakers scheduled by Blockinger at her shop.
Some of Greenspan's recipes were created when she operated a cookie shop called Beurre & Sel in New York City. She has created more than 300 cookie recipes, including a few that came to her in the middle of the night during dreams, she said. Cookies that appear in her book were file-coded "Book-It," and more than 160 were selected for inclusion.
"There are cookies of every kind imaginable and some that you might not have imagined," Greenspan said. "You'll be surprised at how many of our favorite sweets can be cookie-ized."
A chapter is devoted to brownies, bars, breakups and biscotti. Other chapters cover ingredients, cookie baking basics, gear, every-day cookies and cocktail cookies.
Some selections include "They Might be Breakfast Cookies," made from raisins, dried apples, cranberries and oats, the "Pink-Peppercorn Thumbprint" and the "World Peace Cookie."
The Brooklyn-born Greenspan twice received a Cookbook of the Year Award from the International Association of Culinary Professionals for participation in "Desserts by Pierre Hermé" and for her book "Around My French Table." She has homes in Westbrook, Conn. New York City and Paris, France.
A Chappaqua resident, Blockinger opened sherry b dessert studio in September 2012. She grew up in Orangeburg and attended the Hackley School in Tarrytown in grades 7-12. She graduated from Purdue University with a major in communications and a minor in art and design and went on to earn degrees from the French Culinary Institute and the Institute of Culinary Education, both located in Manhattan. Before opening her business in Chappaqua, she was a private pastry chef.
Sunday's two-hour talk begins at 1 p.m. The event costs $20 and includes cookie tasting and refreshments.
The sherry b dessert studio is spacious with lots of comfortable seating. It also caters. It is located at 65 King St. in Chappaqua. For more information, call 914-238-8300 or visit www.sherryb.com.
The Cookery in Dobbs Ferry to Host Breast Cancer Prix-Fixe Dinner
A "Breast Cancer Awareness" fundraiser to include a four-course, prix-fixe dinner will be held at The Cookery in Dobbs Ferry on Monday, Dec. 5. The three-hour program begins with a talk at 6 p.m. by Dr. Anthony C. Cahan, Chief of the Breast Surgery Division and Associate Director of The Breast Institute at Northern Westchester Hospital in Mount Kisco. Dinner and beverages will be served throughout the evening and a silent auction is also planned.
Chef David DiBari described the meal to be served as a "whimsical dinner" inspired by Shirin Tinati, a photographer and the author of "I Am Warrior."
All of the proceeds will be used to fund life-saving imaging services for uninsured and underserved women. The $185 per person ticket is a tax-deductible donation to the Northern Westchester Hospital Breast Institute and includes tax, gratuity, and beverages.
Dr. Cahan graduated from the Cornell University Medical College in 1982 and is a recipient of the Alfred Moritz Michaelis Prize for Efficiency in Medicine. In addition to his duties at Northern Westchester Hospital, he is a Clinical Assistant Professor of Surgery at New York Medical College and an Adjunct Clinical Professor of Surgery at Cornell University Medical College. At Beth Israel Hospital, he was the physician-in-charge of its Comprehensive Breast Service. He was named Northern Westchester Hospital's Physician of the Year in 2010.
Visit https://www.nwhconnect.org/2016awarenessdinner to register for this event online.
The Cookery is located at 39 Chestnut Street in Dobbs Ferry, 914-305-2336.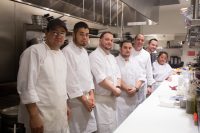 Z Hospitality Group Opens Mediterraneo of White Plains
Z Hospitality Group, a 25-year-old restaurant organization, opened Mediterraneo of White Plains last Thursday with menus reflecting dishes popular at its six other locations.
A wide range of seafood dinner entrées is offered by Executive Chef Albert DeAngelis, including lobster with butternut squash ravioli ($25); Northern Atlantic hake ($25); grilled branzino ($28); pan-roasted Scottish salmon ($29); sea scallops ($29); yellow-fin tuna ($30); and pecan-crusted filet of halibut ($36).
The dinner menu also includes breast of chicken Milanese ($24); wood-oven roasted Amish chicken ($28); Pekin duck breast ($28); lamb kabob ($29); a 12-ounce beefsteak ($36); and wood-oven cooked personal pizzas priced from $15 to $18.
Appetizers are priced from $10 to $17 and also include a variety of seafood choices such as charred Spanish octopus, East Coast oysters, grilled squid, Prince Edward Island mussels and sushi-grade tuna carpaccio.
Prix fixe lunches are available Monday through Friday for $18 for two courses and $21 for three courses. The lunchtime courses include soup, salad, tagliatelle with veal meatballs and grilled or pan-fried chicken Milanese. The desserts are vanilla creme brûlée, tiramisu or sorbet with berries. Wine by the glass (seven ounces) start at $10.
Mediterraneo hosts a happy hour from 4 to 6 p.m. On Tuesday, it discounts bottles of wine priced under $100 by 50 percent. Prices for bottles above $100 are slashed 25 percent.
Five of Z Hospitality Group's restaurants are in Connecticut. Aurora is located in Rye.
Mediterreaneo of White Plains is located at 189 Main St. in White Plains.