The Rebuilding of Breezy Point From an Architect's View
We are part of The Trust Project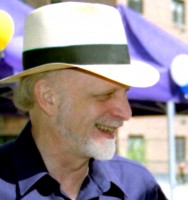 Determining what is salvageable is the first step of reconstruction after a devastating storm. Taking a new view to disaster planning that puts a spin on what will hold in the next stronger storm is an entirely new approach to rebuilding for a safer community.
White Plains resident and architect, John Mclean, was moved by a trip to Breezy Point last week. He is one of many people from Westchester County who have joined volunteer groups traveling to the main disaster areas caused by Hurricane Sandy to help victims sort through the debris that once represented the foundation of their lives.
The reports are all the same: "These people are in shock. They are overwhelmed. Their lives have been turned upside down. I have never seen anything like this before."
Along with this first-hand view of total devastation in many instances also comes a respect for the power of the weather and the realization that climate change is real. It also causes many to ask what is appropriate reconstruction for future safety.
As an architect, these are the types of issues that come to mind for Mclean. The project he was working on with a group of contractors from a Mamaroneck-based company called Murphy Brothers and Habitat for Humanity was the Christ Church of Breezy Point, settled in a 100-year old community of buildings constructed primarily of wood.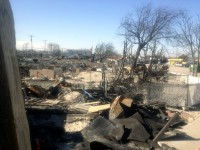 "Most of what was lost in Breezy Point were summer bungalows converted to year-round residences," Mclean noted. "Much of the original construction was old and the buildings were very close to the water. The dunes and breakwaters were completely obliterated."
The job at Christ Church was to clear as much up inside the church to allow reconstruction. "We had to remove paper and sheetrock from the walls to get to the wood beneath so it could dry out," Mclean explained.
The church building was given a yellow coded sticker, indicating it was salvageable, although not habitable. The ultimate goal is to move it from the yellow to green status.
Mclean advised the pastor to work with the local Building Department to determine what could and could not be done with the structure. "An older building may need to follow a new set of codes in reconstruction, so owners should not jump in to recreate what was once there without some guidance," Mclean said. "It is a situation where you need to operate on facts and not assumptions," he added. "You don't want to spend money and then find out you have to tear down and begin again."
Mclean also spent some time the same week with relatives living in Belle Harbor, not too far from Breezy Point. "These structures were newer and built more solidly," Mclean explained. "They were further back from the beachfront, but still experienced flood damage on the ground floors. The structures are salvageable, but what's to be done about diverting a future flood?"
McLean also questions the rationale behind rebuilding electrical high wires that are easily blown down and torn from buildings, adding to the potential danger of fire during high winds and flood surges. "That's what caused those 100 homes to burn to the ground," he said. "You can't simply rebuild. Some serious thought must be given to regulations. Some serious decisions have to be made."
The work at hand requires a lot of brawn, a lot of brain and tremendous amounts of sensitivity, Mclean concludes. "You are telling people to get rid of things that tell the story of their lives. In many cases that includes the space they lived in and the area that contained their community."