The Psychedelic Furs to Lead 2018 P'ville Music Fest Lineup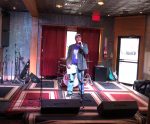 Music lovers filled Lucy's Lounge in Pleasantville Sunday night to hear that The Psychedelic Furs will headline the 14th annual Pleasantville Music Festival this summer.
Festival Executive Director Bruce Figler made the highly anticipated announcement of the 14 confirmed performers for the July 14 festival at Parkway Field between sets performed by Back 2 Zero, one of the festival's 2016 Battle of the Bands winner.
The Psychedelic Furs is best known for their hits "Love My Way" and "Pretty in Pink," which served as the inspiration for the John Hughes film of the same name.
The Main Stage will also feature Grammy-nominated singer-songwriter Robert Randolph & The Family Band, country-rock band Cracker, Lizzie and The Makers and Brooklyn-based folk band The Lone Bellow.
Figler said they were looking to present as much variety as possible.
"We're trying to do a little bit of something for everyone here," Figler said. "We don't want four of the same (bands), we want to make a lot of people happy," he said.
The Chill Tent will feature Dobbs Ferry musician Tim Stout, Somers singer-songwriter Dan Zlotnick, pop-rock singer-songwriter Emily Angell and the all-female band Chanelle. Former congressman John Hall, a member of the 1970s band Orleans, will appear with special guest Fly Amero and serve as the tent's headliner.
The Party Stage will include Mahopac alternative rock band Friends at the Falls, New York City's Loose Buttons, rock band Late Night Episode and Juice, an eight-man group out of Boston College. A headliner for the Party Stage will be announced at a later date.
In addition, the two winning groups that will emerge from the festival's ongoing Battle of the Bands will open the festival at noon on the Party Stage and The Chill Tent. The competition features metropolitan area musicians who are 26 and under.
Tickets can be purchased online through TicketWeb and at the Pleasantville Recreation Center, located at 48 Marble Ave. next to Parkway Field, from 8 a.m. to 4 p.m. Monday through Friday. Tickets cost $45. For seniors (65 and up) and students (12 to 21 years), tickets are $30. Children under 12 years old are admitted free but must be accompanied by a ticket-carrying adult.
For more information, including how to volunteer for the event, visit www.pleasantvillemusicfestival.com.