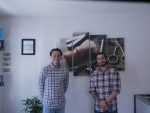 Residents looking for a cool haircut in the midst of the summer heat have a new barbershop in town to turn to.
The Parlor 109 is open for business, after they officially opened their doors earlier this month. Owned by best friends Dennis Reynolds and Kenny Strazza, the two Lake Carmel residents are hoping to make the shop a meeting place for the community, all while offering the best looking hairdos.
Besides offering a good-looking haircut, The Parlor 109 handles shaves, eyebrows, facials, and beards. Many of the customers that come in are familiar with Reynolds and he is on a first name basis with them. When they walk in, Reynolds knows the exact haircut they're looking for.
Since 2011 when Reynolds, who has a master's license, became a barber, his goal was open his own shop. His original plan was open a place within ten years, but succeeded in having his own business a little sooner.
Reynolds and Strazza have been best friends for 14 years, growing up together. The two met through mutual friends in the Lake Carmel area.
When the opportunity presented itself to open a shop, Strazza said it was a "no-brainer." The two had been talking about this goal for a long time and the location they found on Towners Road is perfect, both owners said.
"We both had that entrepreneur mindset," Strazza said.
Reynolds handles the style side of the business by cutting hair and Strazza is the numbers guy by handling the books.
Reynolds originally worked for another barbershop in Carmel where he got his start. During that 6-year tenure, he amassed hundreds of clients that like what he can do with a pair of scissors.
The two don't fear going into business together could hurt their friendship. They think the same way and can always be open with each other, Strazza said. Reynold's five-year-old son even calls Strazza, Uncle Kenny.
"We're family," Strazza said. "What's mine is his and what his is mine."
"Family is the strongest way you can go sometimes," Reynolds added.
The shop has access to a nearby park so Reynolds hopes to throw barbeques and block parties to get the community involved and get residents more familiar with each other. The barbershop also has a team in the Kent softball league.
Once Reynolds becomes more established, he wants to give back to veterans, seniors, people with special needs, and the needy.
"It's my time to give back to the community," Reynolds said.