The H.O.W. Approach, Yorktown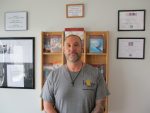 Portchester resident Michael Anzovino, owner of the H.O.W. Approach in Yorktown, has been helping local residents with their health and fitness for years.
Last week, Anzovino explained the acronym portion of the name of his business stands for "healthy, ongoing, wellness."
Anzovino moved H.O.W. to Yorktown about two-and-one-half years ago. He moved to his current Underhill Avenue location about a year ago.
"We do personal training and chronic illness exercise therapy," Anzovino said, adding his business specializes in working with clients with Multiple Sclerosis, as well as doing nutritional counselling.
He is the northeast ambassador for the MS Fitness Challenge. "It's a way to give back to the community," Anzovino said.  For his clients with MS who cannot afford his services, Anzovino provides 12 weeks of free training. A new challenge will begin in June, he said. "It's allowing those with Multiple Sclerosis to know that there's other avenues. That there's ways to be taught on how to manage their symptoms, change their diet, get physically active," he said. "They don't have to be tied to the Multiple Sclerosis. It doesn't have to define them."
An example of how Anzovino has helped someone who has MS is the story of Garrison resident Maret Asaro. She came seeking the help of Anzovino several years ago. Anzovino told her that he did not have much knowledge of MS, but was willing to work with her. "Now I strictly train her for triathlons," he said. "She's been doing it going on four years."
Anzovino said he works with each client differently, based on their needs. "We start somewhere and then we build off of that foundation, because I have to constantly reassess you," he said.
The physical training is done at Anzovino's facility and he also gives his clients physical "homework" tasks and helps them improve their nutrition. "A big part of it is the education, what you need to do, why we're doing things," he said.
Anzovino said he trains his clients in a variety of forms of exercise including weight training, and calisthenics, he said. "You name it, we'll do it," he said.
Anzovino also refers his clients to other specialists, including a person who prepares food that will be brought home for those who have difficulty cooking, an acupuncturist, a chiropractor, a physical therapist, and a message therapist.
Working with persons with MS and other illnesses is gratifying, Anzovino said. "It's the reason why I do it," he said. "One of the things I tell most people is I want my business to get to a certain place, so I can work with the people that really need it for nothing. I don't want to charge them."
The H.O.W. Approach is located at 251 Underhill Ave. in Yorktown. For more information, call 914-570-4625, visit howapproach.com or send an e-mail to howapproach@gmail.com.