The Flight of (One) Woodcock is a Sight to Behold
We are part of The Trust Project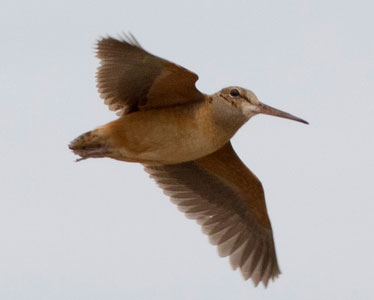 This is a short summary of Saw Mill River Audubon's 2022 Woodcock Walk.
By Brian Kluepfel  
The arrival and the courtship dance of the American woodcock is an unmistakable sign of spring. I decided in March 2022 that it was worth my while.
Hanging around a reclaimed waste dump overgrown with phragmites is a group of approximately 50 birders anticipating the famous night flight of the American woodcock. Fifty is a good number for five pickup basketball games, but not necessarily for birding.
Also, we really must wait until it's dark (and cold) to first hear the birds little whinny of a call (our guides call it a peent) and then, if we're lucky, a fluttering silhouette against the moonlit sky.
I have not dressed properly, for perhaps the 100th time in my outdooring life. Despite warnings that it could get cold by the mighty Hudson, I was deceived by the sunny day. Now I am cold, need to relieve myself and nursing a bad knee upon which an MRI was performed just hours ago. I tell my friend that I want to leave.
Actually, she does, too. I love it when someone cops out with me. The large group is too large, and she's already seen these birds a few days ago. We make our way back toward the parking lot.
But wait. We stop. We hear the birds. We see two lumps on the ground, which appear to move. The whinnying goes on. Then – boom! – the flight of the woodcock. The bird cascades out of the tall grass and climbs to about 20 feet above our heads, perfectly backlit by the nearly full moon. It flits and flutters about for 30 seconds or so, then dips out of sight.
Here's what the e-mail about the outing noted: "We may only see the American woodcocks as fluttering silhouettes overhead or we may be fortunate to see one or more on the ground."
This was exactly right. We saw some on the ground and one (maybe two) spectacular silhouette(s).
We continue back to the parking area. I do not further damage my bad knee. We have seen the magnificent flight of the woodcock, a true harbinger of spring. It's a good day.
Later I find out that you can see woodcocks easily, during daylight hours, in Bryant Park, right behind the New York Public Library in Manhattan. Well, hot damn.
Spring is an exciting time for birders as seasonal migration and warmer weather bring lots of nesting birds back to our area.
The Saw Mill River Audubon has a host of activities, including the Woodcock Walk this Wednesday, Mar. 15 at Croton Point Park, as well as our annual dinner, this year at Mariandale Retreat Center in Ossining. Please join us for any of our events.
Brian Kluepfel is a journalist for Birdwatching Magazine, Lonely Planet travel guides and Westchester Magazine and other fine publications like The Examiner. He encourages you to support and attend Saw Mill River Audubon activities listed in the ad below, and must admit that he, too, once owned caged birds.