The Duffle Bag, Patterson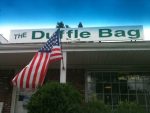 Father-daughter duo Brian and Jean Benedict have been prosperous in preserving history and taking care of the nation's finest service members for more than 30 years.
Brian Benedict always had an interest for military memorabilia after watching family members serve. That passion thrived when he joined the New York Guard and later fused his expertise and knowledge when he opened The Duffle Bag in 1986.
"My father has always had a passion for militaria and we turned it into a business. He's a wealth of knowledge," Jean Benedict said. "We're an old fashioned Army-Navy store. We have a history of men in the military so it was a natural progression."
And a natural progression it was, especially for Benedict who spent her teenage years helping her father and now owns the military surplus store in Paterson.
"I grew up with it," Benedict said. "The history and the stories are so interesting."
The Duffle Bag offers military uniforms and cold weather clothing, boots, 550 paracord, dog tags, ammo cans, children's camouflage clothing, insignia, packs and other accessories.
"We sell a good product and people appreciate that," Benedict said. "We like to help people and the veterans."
The Benedicts also help raise money for the United States War Dog Association, a nonprofit organization of former and current military dog handlers who honor and take care of the invaluable canines that serve the country.
Military working dogs don't get support from the government because the dog is considered a piece of equiment," Benedict said. "The handler has to buy grooming supplies and extra things to take care of the dogs. So we support the non-profit group that supports them."
Along with military surplus, Benedict said their business collaborates and consults on television, film and theater projects. Their work has appeared on the History Channel, CBS and in films such as "Godzilla" and "Operation Dumbo Drop."
Brian Benedict has also been feature on the History Channel as "The Duffle Bag Man" for his extensive knowledge on World War II artifacts and memorabilia.
The family business will host many community events including their annual 1940's styled dinner dance at the Patterson Recreation Center. Attendees are encouraged to dress in 40s vintage attire and are surrounded by memorabilia, antique military vehicles, and living historians dressed in uniform.
"It's a nice evening out if you like big band music," Benedict said.
They also put on a military and knife collectors show every April and October. Benedict said the show attracts tourists, families and members throughout community.
Along with the big events, the Benedicts have been a staple in Putnam using their knowledge and interests to organize free events for the community and veterans, including a living history exhibit, historic displays dating back to World War I, educational sessions with the local school districts, and Memorial Day events.
"It's been a good, honest way to make a living," Benedict said. "It's nice to help people whenever we can."
The Duffle Bag is located on 1270 Route 311 in Patterson. They are open Tuesday through Friday from noon to 6 p.m. Saturday they are open from 10 a.m. to 5 p.m. and Sunday noon to 4 p.m. They are closed on Monday. For more information, call 845-878-7106, visit www.thedufflebaginc.com or email info@thedufflebaginc.com.