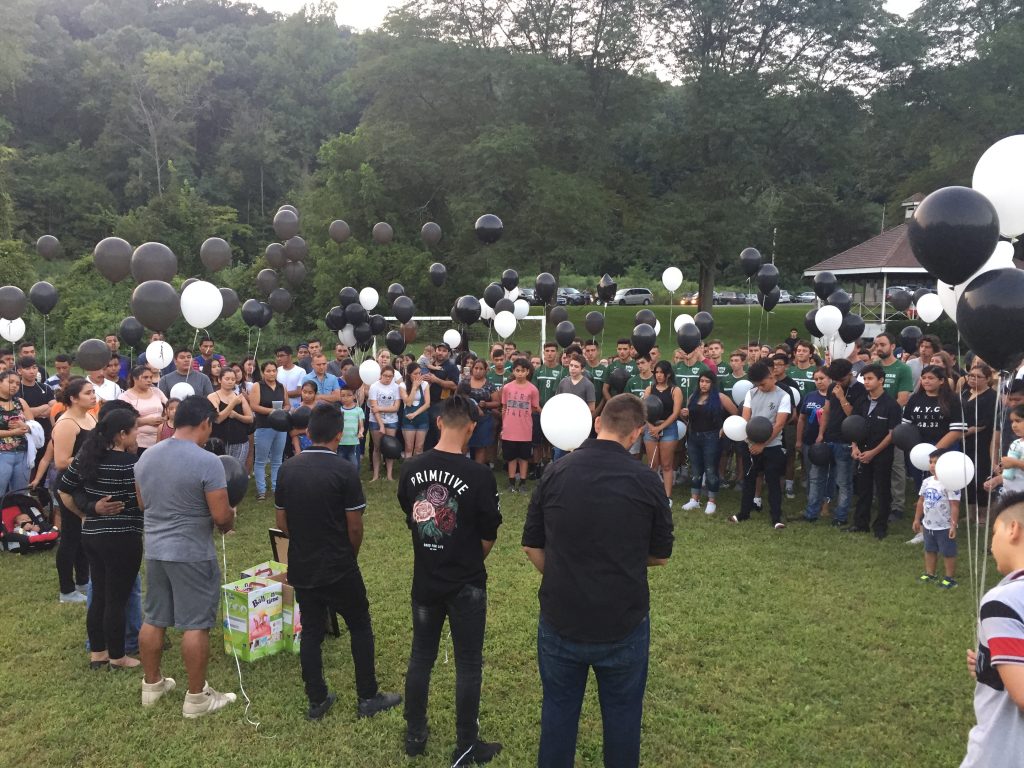 When Melvin Alarcon first moved to Brewster from Danbury, CT., he didn't know a single person. Then he met Oscar Gonzalez, who made him feel right at home, even in a new town.
Tragically, Gonzalez, who made everyone he encountered feel like a friend, died Sept. 3, leaving the Brewster community reeling and remembering a young man gone far too soon. Gonzalez died of an apparent drowning. He was 14 and was about to start his sophomore year at Brewster High School.
The drowning occurred in Lake Tonetta in the Town of Southeast on Labor Day.
Deputies from the Putnam County Sheriff 's Office responded to a 911 call for a drowning around 9 p.m. When deputies arrived, they saw a group of individuals at the end of the dock and an adult male in the water, according to the sheriff 's office. The adult male told deputies that he was nearby when he heard cries for help and dove into the water to locate the teen, but was unable to, authorities said.
Witnesses indicated Gonzalez had been with three friends when a paddleboard they were on turned over and he disappeared underwater. At about 9:51 p.m., members of the Mahopac Falls Fire Department Dive Team recovered Gonzalez who was transported to a nearby hospital where he was pronounced dead at about 10:17 p.m.
Since his death, the heartbreak has been deep and difficult to deal with for many in the community. A vigil was held last Wednesday where more than 200 students and community members came out to Electrazone Field in the Village of Brewster to honor his memory. Black and white balloons were released at the end of the emotional vigil.
About a year ago, right before his senior year began, Alarcon, now a recent Brewster graduate, was playing soccer by himself when Gonzalez, who was with a group of friends, came over to invite him to join them. He always wanted to make sure no one was left out, Alarcon said. When school started last year, Gonzalez saw Alarcon and helped him in anyway he could to make sure he became familiar with the school.
"He helped me to fit in basically," Alarcon said. "He helped me meet people and made me feel like I have friends no matter what place I am. I might've been new here, but I'm just one of them."
Alarcon added, "He was like a little brother to me."
Carmel resident Norma Pereira, who taught Gonzalez, described him as a sweet, kind, and respectful young man. He brought the best out of everyone, said Pereira, who works with many in the Latino community in Putnam. As a student, he was hungry for knowledge, she said.
With so many people attending the vigil Pereira said it indicated the sort of uniting figure Gonzalez was. She hopes that this unfortunate event can help bring the entire community together.
During the vigil, Pereira told his parents, "We share your pain."
"I wanted them to know people care, that we're here," she said afterward.
A GoFundMe campaign raised more than $10,000 for his funeral costs.
Brewster resident Olga Garza used to give Gonzalez rides home from soccer practice; her son and Gonzalez played on the same team together. She said there were no words to describe the anguish felt by so many.
"Everybody loves him," Garza said. "We miss him a lot."
Brewster varsity soccer coach Scott Potusek said this would've been Gonzalez's first year on the varsity soccer team. Last year he was on junior varsity. As a person, Potusek called him fantastic, and as a player he was a hard worker, a great teammate and loved playing the sport.
"He's going to be terribly missed," Potusek said. "It's a big loss for us and his community of friends because he had a big positive impact on those around him."
The tragedy extended beyond Brewster's borders.
During the full county legislative meeting Tuesday night, county lawmakers closed the meeting in memory of Gonzalez.
"Our thoughts and prayers go out to his family," Legislator Ginny Nacerino, who worked at Brewster High School for many years, said. "We're all shocked and saddened."
Brewster Superintendent of Schools Dr. Valerie Henning sent a letter to the school community last Tuesday, stating the district was "deeply saddened by this tragedy." She said staff has been in contact with the Gonzalez family and have notified local agencies that can assist the family.
"Our staff who knew him, taught him or coached him are devastated," Henning wrote. "Oscar was a loving young man who will sorely be missed."
Henning attended the vigil with other staff members. School board members also attended, including board president Sonia Mesika, vice-president Kerry Cunningham and member Glenn Niles.
While last Tuesday was a superintendent's conference day, the district provided grief counseling and even had buses pick students up that needed a ride. Last Wednesday–the first day of classes–students that needed counseling gathered at the innovative learning center in the high school.
"There are no words of comfort that ease the pain when a parent loses a child," Henning wrote. "When something tragic like this occurs, we should cherish all who we love and draw them close to us."