Teenage Production Team Seeks Talent for Local TV Show
We are part of The Trust Project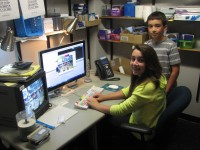 There is a group of Putnam County teenagers who have learned everything there is to know about producing a television program and they are hoping more talented teens will get in touch with them to appear on their show, "Keepin' It Real."
The teenagers are members of the 4-H Media Productions group. Along with looking for young singers, rappers, musicians, comedians, and all others with a special talent, to perform on their show, the group also is looking for kids who are interested in learning about television production.
"The kids in the group are so welcoming," said parent volunteer Joanne Riccoboni, adding that the group of students of all ages and from all different school districts have a great time working as a cohesive group.
The teenagers learned about the technical production of television show through a training program that is offered free to the community at Comcast in Carmel.
"Something might arise. The kids are stumped. They jump right in," she said of the hands-on training the students have received from Comcast staff. "This would not happen if not for Comcast. They have been really great."
Episodes air as much as the group can find talent to feature on the show. One obstacle, Riccoboni said, was finding performers with original material, as copyrighted songs cannot be broadcast on public access.
"If they want to be in front of the camera, we will help them put it together," she said, adding that the  production group makes up a DVD of the show for each of the performers to keep
Carmel High School student Kayla Fuhst recently performed a song that she wrote herself. As part of the show, Fuhst was interviewed by Fabienne Riccoboni just before taking the stage.
So in addition to seeking performers, songwriters who have created original material that local teen cover bands might be able to perform, are being sought after, too.
"Maybe there are kids out there who love to write music, but maybe they don't have a desire to perform?" Riccoboni wondered.
Ricconboni said the existence of the 4-H Media Productions group might come as a surprise to some.
"Everyone thinks its all animals and farming," she said of 4-H's better known programs.
This past year, the group served as the press corps for the 4-H Fair and they record and document the organization's other events, too.
While production of  "Keeping It Real" is not new, the production schedule waned in recent years, but about a year and a half ago, participation increased and production of the show became more frequent. Those with technical abilities, those with unique talents and the kids who are watching who might be inspired to get involved, all get something out of it.
"Our kids are doing something nice for the community and they also are getting something out of it," Riccoboni said. "It's been a lot of fun and it's been very rewarding."
Students interested in performing on the show or others who are least 12 years of age and would like to go through a training at Comcast to become a crew member, may contact Putnam County 4-H for further details.