Teddy Bear Pajama Party Raises Over $1,000 for PCHC
We are part of The Trust Project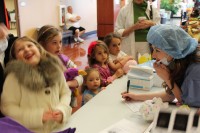 On April 20, the Friends of Putnam Hospital Center hosted a Teddy Bear Pajama Party featuring a performance by the 4-H Puppeteers.  Although the event was free to attendees, over $1,000 was raised through sponsorships, vendor fees, raffles and donations.
"The $1,082 raised is very valuable to the hospital, but the good will that [the Friends of Putnam Hospital Center] creates is priceless," said Putnam Hospital Center Board President Jeff Kellogg.
The fun was enjoyed by over 100 children and was sponsored by Dr. Delaney Pediatric Dentistry and The Putnam Examiner.
The Friends of Putnam Hospital Center is a nonprofit group that volunteers its time to raise funds in support of the Birthing Center and other departments at Putnam Hospital Center. It is a new branch of the Putnam Hospital Center Auxiliary.  The club is only five years young and has accomplished much. It has hosted a Dress Down Day at the hospital, a Baby Tag Sale in Brewster, a Sassy Spa Night for Ladies and several Summer Socials and Teddy Bear Pajama Parties.
Friends of PHC also provides every baby born at PHC with a Halo Sleep Sack.  These sleep sacks are recommended by the Academy of Pediatrics to reduce the incidence of SIDS (Sudden Infant Death Syndrome).  To date, the club has added wall puzzles in the Birthing Center waiting room so that siblings can have some fun while they wait for their new brother or sister to arrive; and have also installed a large flat screen TV as well.  New benches have been placed outside of the Oncology Department compliments of the Club, as well as flat screen televisions in the pediatric Emergency Department area and Psychiatric Units.  The club provided professional grade scales to cardiology department patients so they can accurately provide their physician with daily weight gain/loss without having to make a trip to the hospital each day.  CPR Kits are also given to high risk babies who are born at PHC. The Club's most recent accomplishment at the hospital was a complete renovation of the Birthing Center waiting area. The Club raised enough funds to replace all the furniture and carpeting to create a more comfortable environment while waiting for the families new arrival.
Additionally the club provides children visiting the Emergency Room with a fun Comfort Kit from the Club. The kits include coloring books, crayons, a stuffed animal and other items to keep the child's mind occupied during their visit.  The Kits are a very popular addition to the Friends of Putnam Hospital Center programs.
Sponsors to donate items for the Emergency Room Children's Comfort Kits are welcome.  Contact friendsofphc@health-quest.org to become a sponsor or to learn more about the organization.