Teatown's 10th Annual Hudson River EagleFest This Weekend
We are part of The Trust Project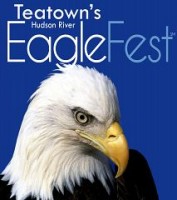 For the past 10 years, Teatown Lake Reservation has celebrated the return of the eagle to the lower Hudson Valley with a festival known as Teatown's Hudson River EagleFest.  The event began as a small, but enthusiastic gathering of about 300 attendees in 2005 when it was first held on Teatown's property.
Teatown's 10th Annual Hudson River EagleFest℠, a favorite winter event in the region, will be held this Saturday, Feb. 8 at Croton Point Park, which can accommodate 5,000 attendees for a full day of activities to celebrate our national symbol.  Programs are scheduled to begin at 10 a.m.
Ten additional eagle viewing sites will be hosted by collaborating environmental organizations along the Hudson River. The newest location is at Rockwood Hall in Sleepy Hollow.
Amazing live raptor shows are always a fan favorite and will be held throughout the day.  Additional activities range from guided and independent eagle viewing, bus tours, storytelling, a tent brimming with children's programs and activities, bird walks and displays from 30 area organizations. Entertainment and educational shows take place all day long in The Eagle Theatre and Eaglet Stage under much-appreciated heated tents.
Food for purchase will be provided by the Wobble Café.
This year, Teatown is selling general admission tickets which will allow entrance to all of the tents and to take advantage of all of the day's activities for one price.  Pre-sale tickets are $10 for adults (14 and up), $8 for children (5-13) and free for children 4 and under. Tickets sold at the venue on the day of  the event will cost $15 for adults, $10 for children and free for children 4 and under.
Everyone is encouraged to arrive early to the bird shows in the Eagle Theatre as seating will be on a first-come-first-served basis.  To purchase pre-sale general admission tickets, visit www.teatown.org. A general admission ticket allows you to attend as many shows in the Eagle Theatre/Eaglet Stage as you want (as long as there are available seats).  Purchase bus tour tickets by calling the Teatown office at 914-762-2912 ext. 110. Tickets for the bus tours (for age 14 and up) are $25 each and often sell out.
Eagle Viewing Sites
Guests can enjoy eagle viewing locations and activities along the Hudson River at no additional charge. Each is staffed by eagle experts with spotting scopes. When it's time to warm up, attendees can take a break in the heated tents and buildings and enjoy hot cocoa at the following sites:
Trailside Museum and Zoo, Bear Mountain State Park
Bear Mountain State Park, Bear Mountain
Boscobel House and Gardens, Garrison
Croton Boat Ramp at Croton-Harmon Train Station
New Croton Dam, Cortlandt
George's Island Park, Montrose
Kathryn W. Davis RiverWalk Center, Sleepy Hollow
Riverfront Green Park, Peekskill
Rockwood Hall, Sleepy Hollow
Steamboat Dock Park, Verplanck
Parking is free and available in the park.  Overflow parking is available in the Village of Croton, lot A.  Shuttle buses will bring guests from the outlying lots and the Croton Harmon Train Station to Eagle Headquarters throughout the day.
In the event of severe weather, the alternate date for EagleFest℠ will be Sunday, Feb. 9. Please check Teatown's website, www.teatown.org, for program details and weather updates, or call 914-762-2912 ext. 110.