Team New Castle Sweeps Democrats in Supervisor, Town Board Race
We are part of The Trust Project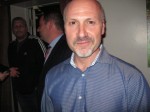 A new era is coming to New Castle politics.
Team New Castle, which was backed by the Republican and Independence parties, defeated the Democratic slate Tuesday night and will take over control of the previously all-Democratic town board next year.
With 81 percent of the precincts reporting, Team New Castle supervisor candidate Rob Greenstein had collected 2,014 votes (55 percent) while his Democratic opponent, Town Administrator Penny Paderewski, had 1,672 votes (45 percent).
Greenstein's running mates, Lisa Katz (2,254 votes) and Adam Brodsky (2,056) easily won election. Democrat and 10-year incumbent Councilman John Buckley followed with 1,860 votes and former town board member Michael Wolfensohn, who was hoping to return to office after a two-year hiatus, picked up 1,615 votes.
Greenstein and Katz are registered Democrats and Brodsky is an independent.
The mood at the winners' Election Night headquarters at the Le Jardin du Roi French Bistro in Chappaqua was festive from early on, beginning at about 30 minutes after the polls closed when supporters reported that they had won Districts 1 and 2.
Greenstein announced that he and his ticket had won at about 10:30 p.m. after Paderewski conceded.
"Tonight was a chance for the residents to have a voice," said Greenstein, who was victorious after losing an independent party challenge for town board in 2011. "For years they haven't had a voice. So tonight they had a chance to make their voices heard and they did. And they sent a clear message that they're not in favor of a 120,000-square-foot retail development at Chappaqua Crossing and they're not in favor of the Hunts Place (affordable housing) project. And that's the message, and hopefully the town board hears it loud and clear and listens to the residents and acts on behalf of the residents, which is what they're elected to do."
"I just think it's unbelievable," Brodsky said. "We have such a mandate from the community. We're going to really undo the status quo and take our community in a wonderful direction."
Brodsky said he and his running mates were honored and thrilled to have the community's support. He said he thought the community wanted change and backed the ticket because they liked the new vision and approach.
"Oh my gosh, I'm so excited," Katz said. "I think that we got the message out there and we were open with New Castle residents. We let them know what's going on–transparency. And everyone's ready for a change and some new blood."