Te Plus Te, Pleasantville
We are part of The Trust Project
Among the many stores that carry home and body care products, Te Plus Te in Pleasantville offers something different for the average consumer.
The store, owned and operated by Eiko Miyazaki, carries a range of products containing the Hinoki scent, otherwise known as the Japanese Cypress, a species native to central Japan. The store's name translates to "Hand-in-Hand."
The tree's light wood, which is known for its therapeutic value, has been used to build bathhouses, temples and palaces across Japan. The longstanding wood – structures built with it can last over 1,000 years – is highly valued for its spiritual qualities and can emit a sense of tranquility when used in the home.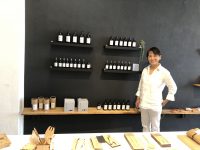 Miyazaki, a longtime Pleasantville area resident, opened the store in February. Before that she worked out of her home making all of the products that she sells in the store, including hand washes, soaps, body mists and home sprays using the Hinoki scent.
She explained that creating the products is a time-consuming process that involves the use of special essential oils she imports from Japan. It's also something she has enjoyed over the years while serving as a wholesale provider of Hinoki products to high-end hotels and stores across the United States.
Miyazaki opened the Marble Avenue store to gain more production space and to offer her unique products to the public.
Shoppers can find her signature Hinoki products throughout the store as well as reversible fabric handbags made of high-end European textiles and various ceramics that she makes in her home studio.
But it is her line of home and body products that she is most passionate about. The organic ingredients in the products are intended to hydrate and restore the skin while also uplifting the spirit, Miyazaki explained. No petros, sulfates or other artificial additives are used, she said.
On a table that runs the length of the store, customers will find an assortment of items, including the store's newest item called Handmake, a collection of Hinoki wooden cutlery kits that can be carved into beautiful and unique pieces while breathing in the soothing aroma.
Proceeds from the sale of the kits benefit a small community in Okayama, Japan, where the kits are made.
Other items include the drawings and lace accessories of local artist Flora Viale.
Miyazaki has been offering workshops since she opened Te Plus Te, including moss ball making, Japanese pearl accessory classes and tastings that focus on the health benefits of the Japanese tea Matcha.
Miyazaki said she is excited to bring her Hinoki products to a wider audience and to help the public understand its benefits.
"I want people to know what the real Hinoki scent is like and how it connects to nature," she said.
Te plus Te, located at 12A Marble Ave., is open Wednesday through Friday from 12 to 6 p.m. and on Saturdays from 11 a.m. to 6 p.m. For more information or to order any of Miyazaki's products, call 914-960-6134 or visit www.tepluste.com.
Colette Connolly is a copywriter and p.r. expert. She owns Connolly Communications, which is based in Bronxville, New York. Colette specializes in providing content-rich, SEO-optimized press releases, articles, newsletters, brochures, and customer success stories.