Taxpayer Funds Needed for Tri-Municipal 9/11 Memorial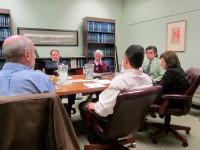 Croton-on-Hudson may team up with Buchanan and Cortlandt to partially fund a regional memorial to the terrorist attacks of September 11, 2011, a reversal of the village's original stance on financing the project.
At a meeting of the village's board of trustees last week, Janet Mainiero — the woman spearheading the project — said the non-profit group pushing the memorial has only raised about $20,000, with a large end-of-the-year fundraising push resulting in a net gain of just $50.
Depending on the intricacy of the design, Mainiero said, the memorial could cost anywhere from $50,000 to about $105,000 — down from initial estimates of nearly $225,000.
Mainiero beseeched the trustees to throw their weight behind the project, telling them she anticipated the municipalities' contribution would spur further corporate and individual contributions.
"We keep saying that we'd like to have something built by this September, but we're running out of interest and the economy is still kind of wavering a bit," she said. "What we're hoping here now is to kind of see how we can work this partnership through."
Croton Mayor Leo Wiegman said he couldn't commit to funding the memorial but was happy to talk to his colleagues in Buchanan and Cortlandt to further explore the option.
Wiegman said the memorial — which will prominently feature a sundial and a sculpture of a human woman and will be located at Croton Landing Park — offers something other regional memorials, like those in White Plains and Valhalla, do not.
"I believe the site that we have is very unique and offers in and of itself moments for contemplation and reflection," he said. "It has many more dimensions than some of the other memorials."
But not every trustee was sold on the plan, with Greg Schmidt denouncing what he said is an oversaturation of 9/11 memorials.
Schmidt also said he was unhappy the village was now being asked to help subsidize the project when the memorial was initially presented as capable of being built without public funds.
"When you started with this thing, you did it all the wrong way," he said. "It should have been, 'Here's our budget for this thing, here's what we can do.' "
Instead, Schmidt argued, a concept for the memorial was developed and a budget was then tabulated.
Trustee Ian Murtaugh said it was important to work through the ins and outs over what a public funding scheme would look like before deciding to adopt or nix Mainiero's proposal.
"I'm willing to discuss it further," he said. "I'm not willing to write it off."
Also present at the meeting were sculptor Lauren Davis and the project's architect, James Rhodes.
Rhodes said it was important to finance the project fully and not strip it down to a cheaper design.
"It's kind of a problem to go out and put together something that's disappointing from the first day," he said. "There's been a lot of thinking on how to reduce the cost. If you want this thing to be around 50 or 100 years from now, you don't want to do it too critically — you want it to be robust."
At the meeting, the trustees also tentatively agreed on a proposal to refurbish 28 streetlights in the village that will cost approximately $75,000 and use "induction" lighting — the next stage in digital innovation, village manager Abraham Zambrano said.
"The choices are, at its most basic level, to refurbish or replace, and replacement at either level is much more expensive," trustee Ann Gallelli said. "If the induction provides a better light, a more efficient light, then that's the way we want to go."