Tax Bill Error Leads to Confusion Throughout Putnam County
We are part of The Trust Project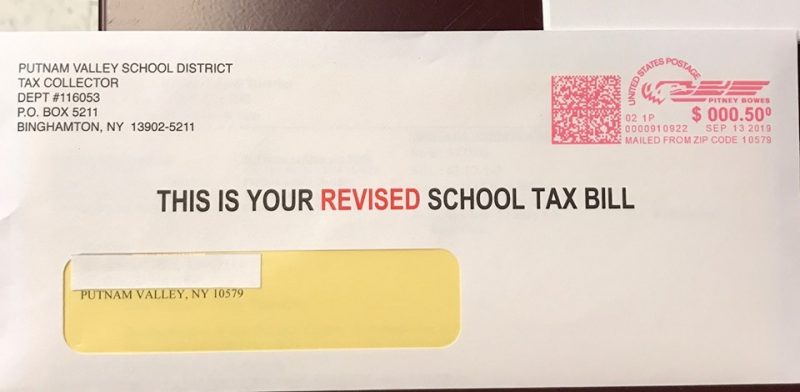 Confusion has reigned over Putnam County the last couple weeks as school tax bills sent to property owners had the incorrect amount they owed.
Many property owners were either sent a bill where they were asked to pay too much or too little because of an error in the county's department of finance. The county sent out a press release earlier this month acknowledging the screw-up and telling property owners not to pay their school tax bill to the local receiver of taxes. An extension has been granted to property owners as revised school tax bills with the correct amount are sent to households in the coming days. School district have also alerted residents on their website of the error by the county.
Town officials have been on the frontlines of the error that has affected 43,000 properties.
Residents have contacted Southeast Supervisor Tony Hay about surprises in their tax bills, including one veteran that received a $0 tax bill and another veteran that got only a $1,500 tax bill when he should've gotten a $9,500 bill. Because veterans got more of a reduction than they were supposed to, other taxpayers had to bear the brunt of higher tax bills, Hay said.
While Hay was out campaigning one night prior to the tax bill snafu discovery, one woman told him she got her school tax bill and it was half of what she was expecting. At the time, Hay didn't think much of it, but when the error surfaced he called her to let her know not to spend the extra money she thought she was going to be able to hang onto.
"It's major, I just feel bad for anyone coming in unaware of it," Hay said. "It's a mess, but look, human error, mistakes happen and we'll live with it."
Hay credits the county for taking full responsibility for the screw-up and working with the towns to rectify the situation. Hay did note the paperwork for the town will be "catastrophic."
Patterson Supervisor Rich Williams said last week a "complete reset" needs to be undertaken since every taxpayer will be receiving a new tax bill. The additional workload for his tax receiver's office will be substantial.
The county has told supervisors it will reimburse the municipalities for some of the costs, including the tax collection software and any changes that need to be made to the database, the bill reprints and the mailings. The county has not told supervisors if it will pay for the additional labor needed now in the receiver of taxes' office to mitigate the loads of extra work the office is dealing with, Williams said.
"There's going to be a fair amount of additional work," Williams said. "The receiver of taxes, they normally get the bills at the end of August, they have a week or two to go through them, check them out, make sure everything is OK. They have to redo all that work and they have to redo it all in a couple of days."
Additionally, refunds need to be given back to property owners for those people that already sent in their checks and paid too much, Williams pointed out.
Putnam Valley Supervisor Sam Oliverio said there has been a lot of concern from people that already paid, wondering what they are going to do now. Oliverio said the county has sent an advisory making it clear what needs to be done for those that paid an incorrect bill.
There was a conference call with all towns and the county last week that lasted about two hours.
Most people can expect a reimbursement, Oliverio said, though veterans will likely see an increase in their tax bill.
"Most of the calls I've gotten are from seniors who tend to pay right away and they're panicking," Oliverio said, though when he told most of them they'd likely get money back, it made them happy.