Tasty Surprises Await Diners at Barnwood Grill
We are part of The Trust Project
By Morris Gut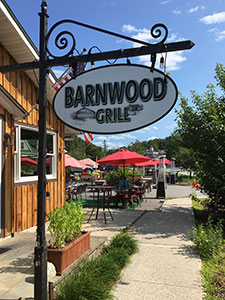 While driving through the lovely byways of northern Westchester, we cruised around the glistening Amawalk Reservoir at routes 118 and 202, into the hamlet of Granite Springs, which is part of Somers.
On one side of Old Tomahawk Street was Traditions 118 (former home of Maxime's years ago), and they appeared to be catering a large event. On the other side of the street is Barnwood Grill, which used to be called Fritz's, I recall, a nice-looking spot with a large outdoor patio. The place looked inviting, so we settled at a window table inside the bar and lounge.
We ordered drinks and surveyed the scene – a warm interior with wooden beams and seasonal fireplace. There was a large bar and a friendly staff. We had arrived during the transition from lunch to dinner, but things went smoothly. We were told they operate another location in Newtown, Conn.
The eclectic menu offered an appetizing selection. We had their brisket tip sandwich on ciabatta bread, which caught my eye. It was heated and layered with crispy brisket chunks, American cheese, arugula, with Gold's barbecue sauce. My companion went for the organic free-range chicken burrata, a pan-fried chicken breast with panko, arugula, tomato and onions with house dressing, served in a paillard-style.
Both dishes were good with ample portions, which made for a fine share. Oh, that brisket! Liked their thin-sliced fries, too. They also have a full brisket platter on the menu. Maybe next time. Barnwood Grill satiated our hunger nicely.
Additional menu specialties include a daily raw bar, tuna tartar, stuffed pierogis, a natural Kobe burger, homemade pappardelle with shredded short rib, shrimp and grits and baby back ribs.
Barnwood Grill is located at 2 Old Tomahawk St. in Granite Springs. Open daily for lunch and dinner as well as Sunday brunch. Info: 914-248-8100 or visit www.barnwoodgrill.com.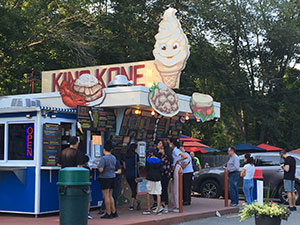 Cooling Off at King Kone
We decided to stop at King Kone on Route 100 in Katonah. As we pulled up to the bustling landmark, it felt like date night. This retro fast food and dessert spot has been scooping it out for almost 70 years.
It was early Saturday evening, and the place was popping with couples and families and a line out front, but it moved quickly.
We shared a large sundae with chocolate mint chip ice cream and plenty of fudge, topped with whipped cream and the ubiquitous maraschino cherry. Soothing for a summer evening. Had a good time watching the crowd from our picnic table.
I didn't realize they served food, too. Menu items include corn fritters, lobster roll platter, burgers and a crab cake sandwich. May try it next time. Anyone ever order from the food menu?
King Kone is located at 109 Route 100 in Katonah. Open daily in season. Info: 914-232-0571 or visit them on Facebook.
Triple Taco Deal
John Solo, of bustling Cantina Taqueria & Tequila Bar in White Plains, is offering a three-taco lunch for $9.95 all summer long, or you can choose one of their tasty quesadillas with steak, chicken or shrimp or a big burrito. A new street bowl is available, with a choice of protein, for $8.95. Might be a good time for one of their frozen drinks, too.
Cantina is a playful, colorful restaurant. A bright aqua pastel façade attracts visitors along Mamaroneck Avenue. They serve a bouncy menu of reasonably priced south-of-the-border fare. Try the new birria tacos or cheeseburger tacos and house specialties such as carnitas, chicken mole, garlic shrimp and steak fajita.
Cantina Taqueria & Tequila Bar is located at 166 Mamaroneck Ave. in White Plains. Open seven days. Happy hours. Festive party facilities. Info: 914-461-3959 or visit www.cantinany.com.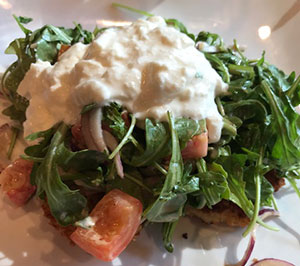 Tesoro D'Italia Weekday Lunch Deal
They have been drawing a good crowd at Tesoro D'Italia Ristorante for their Monday-through-Friday lunch deal, offered from 12 to 3 p.m., for $19.95. Heading the day-to-day operation is Peter Lucaj and his family. Happy hours are popular, too.
The restaurant is divided into a main dining room for 100 guests, a semiprivate fireplace room for up to 40 guests and a lovely glass enclosed wine room seating up to 25. There is an inviting bar and lounge area for networking and spirited conversation, and casual dining too. A dramatic wine wall highlights the dining room along with smoked glass dividers and white tablecloths. Grey and white hues help polish the space.
Check out delightful specialties such as the summery chicken paillard topped with salad; eggplant rollatini; rotelli melanzana; and broiled veal chop.
Tesoro D'Italia is located at 160 Marble Ave. in Pleasantville. Open seven days. Free parking. Info: 914-579-2126 or visit www.tesoroditaliany.com.
Just a friendly reminder: We are not clear of COVID-19 yet, so continue to follow sanitary protocols and keep your mask handy. As of Aug. 16, dining indoors in New York City requires proof of vaccination. Not sure if it will follow here. In the meantime, stay calm and follow the rules. Better safe than sorry.
Morris Gut is a restaurant marketing consultant and a former restaurant trade magazine editor. He has been tracking and writing about the food and dining scene in greater Westchester for 30 years. He may be reached at 914-235-6591 or gutreactions@optonline.net.