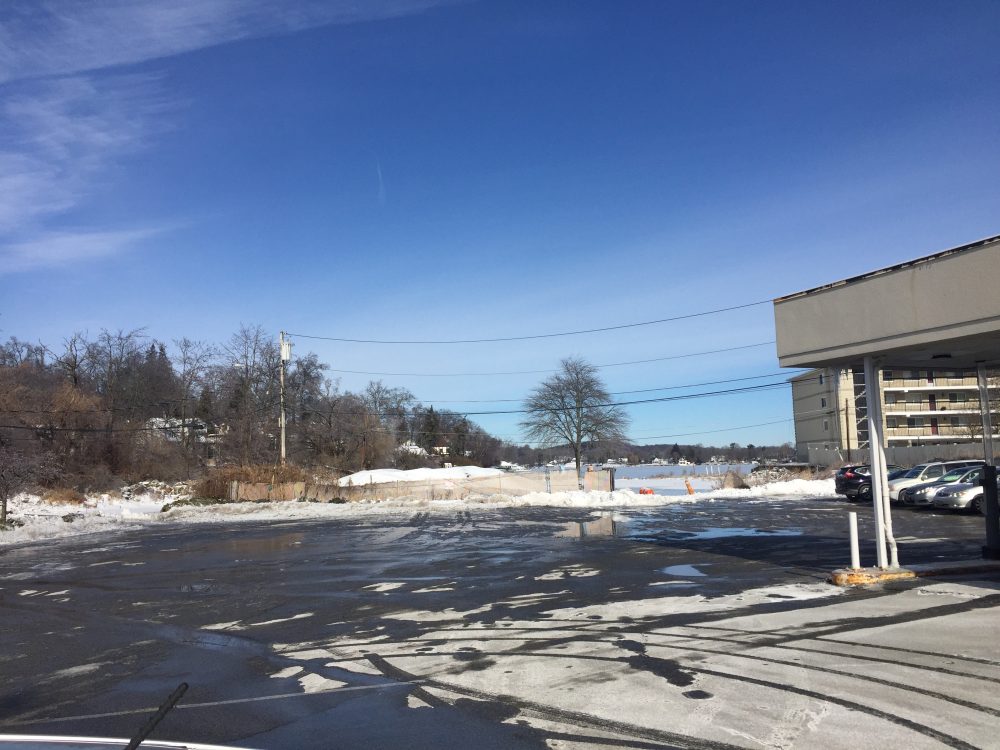 Discussions between the Town of Carmel and Tompkins Mahopac Bank received unexpected scrutiny last week as the two sides look to sign a contract that would land the town several pieces of property in downtown Mahopac.
The town is attempting to hammer out an agreement with the bank in which the town would purchase four parcels from the bank with hopes the additional land could be used for parking off Route 6 near Lake Mahopac. The town bought the Swan Cove property for $1 million last year, but wants to gobble up more parcels to enhance business district parking and create a waterside park.
During last Wednesday's town board meeting, well-known resident Robert Buckley, who is active in local politics, questioned the town board if a deal between the town and the bank would be in the best interest of the Mahopac community.
Buckley said because officials didn't do their due diligence last year before the municipality purchased Swan Cove, the town is now paying the price. The conceptual idea from the town board was to turn the area into a lakeside park with more available parking needed in downtown Mahopac.
Buckley contends the town does not have access to Swan Cove because there is an easement on the property for residential use only and the bank controls whether that easement can be lifted.
"We have a piece of property that we spent $1 million for that we really don't have access to until we negotiate with the bank," Buckley said.
Buckley said the bank, which is a publicly traded company, now has leverage in the negotiations. He questioned why Tompkins Bank would give the town board a hard time rather than work with officials to find a reasonable deal.
Buckley once again urged town board members to review everything before a final deal is struck because the costs to fix the parking lot, which floods frequently, are unknown. There could also be possible restrictions stipulated by the bank, Buckley noted. He even encouraged the town to sell Swan Cove if a good deal can't be reached.
"They got you right where they want you at this point unfortunately," Buckley said. "You got players on both sides (the town and the bank) talking. Things are not real quiet in this town."
If a contract is hammered out, residents should be heard on the possible deal, he said.
Town attorney Greg Folchetti said the bank has allowed access to the Swan Cove parcel even though the easement only OKs access to the residential units that used to be on the property before they were knocked down. He said if the town was prevented from going to Swan Cove, eminent domain could be used because it is for a public good.
The only town board member to respond to Buckley was Councilman Michael Barile. The two have butted heads in the past and have made clear they don't like each other.
Barile encouraged Buckley, seemingly sarcastically, to attend town board meetings each week to provide "the wisdom and knowledge the people want tohear."
"Mike you're such a gentleman, such a pleasure to hear that from you," Buckley, also in a sarcastic tone, shot back.
Even though the men feigned civility during the meeting, all bets were off when they were contacted later in the week.
Barile, in an interview, said the negotiations were "a work in progress" and not expected to happen overnight. He then dismissed Buckley's concerns and called his assertion that the bank is leveraging the town "disgraceful."
"Bob Buckley's an idiot, you can quote me," Barile said. "He's a rabble rouser and a troublemaker and a political pawn who has an agenda and you can quote me on all of that because it's all true."
"He's just trying to stir me up and it's not going to happen," Barile, a town board critic before he was elected, went on to state. "I'd rather deal with someone who has some intelligence."
When asked if the bank was dealing with the town in good faith, Barile replied, "Absolutely."
Representatives for the Tompkins Bank could not be reached for comment before press time.
Buckley, when reached for comment, said if Barile can't accept constructive criticism from taxpayers, then he should resign from the town board. He said Barile's hostility toward him and other critics is the reason why many residents don't speak out about town issues.
"The bullying mentality must stop," Buckley stated. "As a town resident it is despicable that I receive a phone call from a local newspaper asking me about my public comments at a town board meeting and then I am asked what my thoughts are on Councilman Mike Barile calling me an idiot amongst other nasty things."
Buckley reiterated that the town at Barile's insistence bought the Swan Cove property without doing its due diligence last year and he spoke out at the meeting last week because he had further concerns about the town negotiating with the bank.
"How does one respond to name calling, it is simply, you take the high road and you do not stoop to the same level," Buckley said. "Name calling is a defensive mechanism used by people who have no answers for the real question."
Supervisor Kenny Schmitt also said the two sides are negotiating in good faith and progress is being made, but there are some items that need to be hashed out.
He vowed to continue to talk with the bank until a fair agreement is reached, but could not reveal too many details in the contract being worked out. When asked about the easement making things more difficult, Schmitt said once the town owns the four parcels, that easement will no longer be a cause for concern.
Schmitt noted there is a significant parking issue occurring in downtown Mahopac that the town wants to address.
"We're trying to address that," Schmitt said. "We're hopeful we can achieve that by purchasing these parcels that are currently bank-owned."