Sycamore Park Resurfacing Projects Revamps Lot
We are part of The Trust Project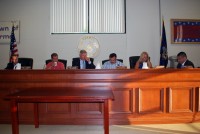 After a long process, the parking lot at Sycamore Park in Mahopac has been repaved, and it didn't cost the town a dollar.
The project, which Parks and Recreation Director Jim Gilchrist said has been in the works since the early 2000s, cost approximately $700,000 and was paid for by the New York City Department of Environmental Protection.
"It's a beautiful parking lot," Gilchrist said last Wednesday, as he gave an update at the Carmel Town Board meeting at town hall in Mahopac. "If you get a chance, if you're driving through town, pull over and take a look at it. What a difference."
The DEP identified the project as high priority years ago after the Environmental Protection Agency put pressure on the department to clean up the New York City water supply, according to a DEP official. Sediment from the gravel parking lot was apparently running into a nearby reservoir and polluting the city's water.
The DEP agreed to fund the project and construction began last fall. Several trees were removed, though not the sycamore tree the park is named after, while others were installed, officials said.
"It was a very difficult parking lot," said Gilchrist, who said the project was part of the town's master plan. "Now, we have organized traffic flow."
At Wednesday's meeting, Gilchrist passed around before and after pictures of the lot. Supervisor Ken Schmitt called the project a win-win.
Gilchrist is confident the lot won't need another overhaul for many years.
"We're not going to have to touch this parking lot," he said. "I really think it's going to outlive all of us."
Sycamore Park is located off Long Pond Road in Mahopac.