Susan Said to Open Pleasantville Music Festival Main Stage
We are part of The Trust Project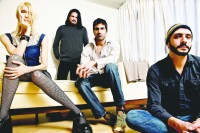 Susan Said is many things, but boring isn't one of them.
"That's our goal, to defy the laws of boring," Susan Wilson-Sed explained of the alternative-rock band. "We're one girl and three guys creating madness and defying the laws of boring."
That they do. It's that same vivacity that has helped Wilson-Sed and her band find success in an rapidly evolving music industry.
Music had always been a large part of Wilson-Sed's life living in Manhattan in the '90s. After moving on from "Planet Earth," a duo Wilson-Sed was a part of, she knew it would be the perfect time to set out and form a band just as she had imagined.
"We grew apart as musicians," she said. "My style was more Nirvana meets Pearl Jam-esque. I want to rock."
Wilson-Sed, who is lead singer and rhythm guitarist for the band, teamed up with bass player Matt Rocchio after he auditioned for the forming band.
"That's what I did, I put the word out to all my friends, to musicians in Manhattan who wanted to play for me," she explained.
The new partners then set out to expand the band, searching for the right talent that would gel perfectly with their sound.
"Matt and I both played instruments but we were fairly good at the business part, too," Wilson-Sed added.
But first, this new band needed a name.
"We went back and forth with a few names, but nothing stuck out.  Then it was just Susan Said. That was it. That was the name," Wilson-Sed said.
Susan Said has grown to include two more members, Brendan Saadat and Adam Accetta, adding their talents to the band as lead guitarist and drummer, respectively.
Since the band's launch in the mid '90, Susan Said has performed all over the world including several concerts as part of a European tour. With hits like "Mr. Touchy Feely," a song that soared on the college charts and saw considerable radio play, to other popular anthems from the band's most popular album, "Polyvinylchloride," Susan Said has carved out a niche of loyal fans. Many of its fans have followed the music of Wilson-Sed and company since the late '90s when the band was playing in Manhattan clubs, including the iconic CBGB.
Susan Said's fans love its sound, though Wilson-Sed herself will admit it is a bit difficult to pin down just what exactly that sound is.
"It's sort of heavy, not metal. It's melodic, very indie-rock," she explained. "When people ask me what we play, I always say, 'You listen, then tell me what you think it is.'"
Part of that unique sound comes not only from their high-energy performances, but from the provocative songwriting Susan Said has become known for. Wilson-Sed emphasizes that a good song comes from tailoring material to fit events going on politically, thus captivating fans and the curious alike.
Followers will have the chance to decide what sound Susan Said brings to Pleasantville when the band kicks off the Main Stage lineup at 12:50 p.m. at the Pleasantville Music Festival this Saturday.
"We can't wait to just get on stage, have fun and just be with everyone," Wilson-Sed gushed. "We're playing earlier in the day, very early for an alternative-rock band, but we're sure our music will definitely wake the crowd up, even if they haven't had their morning coffee yet."
The band is set to perform older favorites as well as new material off their new album, "Ghosts and Ashes," slated to be released soon.
"We're still tweaking. It's really going to be a fantastic CD," Wilson-Sed said.
After coming to Pleasantville on Saturday, the band will be revving up for an exciting "little tour" along much of the East Coast this fall. Next April, Susan Said will be taking their energy and talents across the pond as part of their 2013 European Tour. For now, the band is preparing for their big performance on Saturday.
"We're all just a bunch of crazy people, doing crazy things on stage," said Wilson-Sed. "We can't wait."
By Aileen Collins