Surprise Proposal By Yorktown Cop to Carmel Girlfirend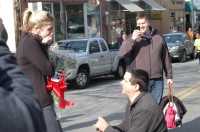 Southeast resident Robert Pavletich, while on duty as a Yorktown police officer, regularly stops drivers for speeding, but at a 5K race earlier this month in Bedford Hills, he couldn't wait for his girlfriend to speed through the finish line.
On Saturday, April 14, Pavletich surprised his girlfriend of four years, Carmel resident Danielle Wegielski, at the finish line of the "Run for the Hills" 5K and proposed.
Family and friends who were in on the plan waited with him at the end of the hilly 3.2 mile course. Wegielski, who is a special education pre-school teacher, was running the race with her twin sister Jenna.
Pavletich wanted his marriage proposal to be a complete surprise and told his now fiancée he was working the morning of the race. Pavletich figured that Wegielski, an avid runner who regularly competes in 5Ks, would never suspect that he'd pop the question as she was wrapping up a race.
"I knew I wanted to ask her in a special way, rather than the traditional route of taking her out to dinner, and I'm glad this worked out as well as it did," theYorktown cop said.
The bride-to-be said she was very surprised, first to see him standing in the crowd near the finish line, and especially after he stepped out onto the street with a dozen red roses.
"As soon as he got down on one knee, it hit me and I thought 'Oh my God!,' Wegielski said. "He asked me to marry him and, of course, I said yes."
Pavletich and Wegielski said they are both excited about their engagement, but haven't yet set a date yet for the wedding.
Other runners and many of those who lined the route of the race to cheer on the participants in the 5K, an annual fundraiser sponsored by the Bedford Hills Neighborhood Association, went out of their way to congratulate the couple on their engagement.
"It was so exciting," Wegielski said.
-By Abigail Roche
Abigail Roche is 15 years old and a sophomore at Lakeland High School, where she is the editor of the high school's newspaper.