Surging Lakeland Stuns Hen Hud in OT on Hormazabal Goal
We are part of The Trust Project
By Tony Pinciaro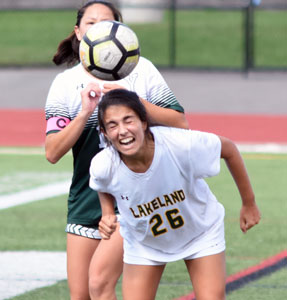 As the 2021 girls' varsity soccer season is winding down toward sectionals, LAKELAND is hitting its stride. The Hornets did not have time to take a breath last week with four games, but it did not affect them as they were a perfect 4-0. Lakeland is now 10-2-1 with three regular-season games remaining.
Lakeland punctuated its four-win week with a thrilling 2-1 overtime victory over HEN HUD as HaiLian Rowan finished a Tyler Hormazabal pass with 8.9 seconds remaining in the second overtime.
"I, personally, was overwhelmed with joy and was so proud of our team for pushing through the whole game," said senior and captain Linda Daly of the Hen Hud game. "It definitely was a memorable moment. I think us working together made it possible to get through this week. Every time we step on the field we are playing for each other and we all have a common goal of winning the league this year."
Last year, the Hornets won their first-round Northern Westchester/Putnam small-school tournament game. However, Daly said the 2020 season came to an abrupt end because of a Covid shutdown. Not only did Lakeland's 2020 season come to a premature conclusion, it marked the final game for seven seniors, including three starters. As a result, Lakeland began preparing for the 2021 season once the 2020-21 school year concluded.
"Our team is very committed to soccer and has been working hard from summer league to each practice and game we have had," said Daly, a four-year varsity starter.
Coming together as a team was evident last week as it began with Lakeland having to complete a suspended game with Nanuet. Lakeland came out flying in the second half with five goals for a 5-3 win as Grace Hahn and Daly scored twice apiece. Deanna Lage added one goal and one assist and Hahn also had an assist.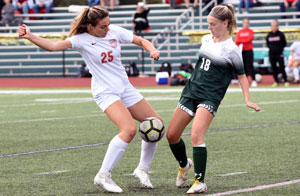 Lakeland travelled to PEEKSKILL to play on its new turf field and was a rude guest as Daly had a hat trick in the win. Keira O'Grady, Laura MacDonald, Rowan and Hahn also had goals. Nadia Parisi rang up two assists and Daly and Lage each had one.
Earlier, the Hornets shut out Hen Hud, 3-0, on goals from Rowan, Lage and Hahn. Keyleigh Mula and Parisi had assists.
"One of our keys to success has to be our team dynamic," said Daly, an All-Section selection her sophomore and junior years. "We are a very close team that supports each other in everything we do."
This season has been enjoyable and memorable for veteran Coach Shawn Sullivan.
"I love this team," Sullivan said. "I have been coaching high school sports for a long time and I've never had a team this special. They are highly-skilled, competitive, great teammates and winners. They are all honor students and leaders at Lakeland. The highlight of my day is spending two hours on the field with them every day!"
SOMERS opened the week exacting revenge on HORACE GREELEY, with five second-half goals in a 5-0 win. The Tuskers followed with a hard-fought 2-1 win over MAHOPAC and closed out with a 4-1 victory against a strong YORKTOWN team.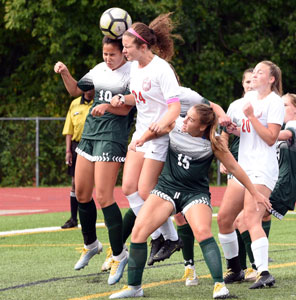 With the three victories, Somers improved to 8-4 overall and 7-1 in league action. Somers held a 3-1 advantage at halftime against Yorktown. After the Tuskers scored the game's first two goals, Yorktown answered on a Jules Vano goal, but Somers responded quickly on an Ava Giudice tally.
"It was a great way to go into halftime because we were able to make a statement right before the break," senior and captain Lily Mandel-Mueller said. "We were able to shift the momentum back to us. This victory meant a lot, especially because before the game Yorktown was seeded one below us in sectional seeding."
Somers and Mahopac were even at 1-1 at halftime. Somers' Coach Kelci Hegg noted that after Anne Maguire sustained a concussion, the Tuskers needed to make adjustments.
"We have a strong defensive unit, led by senior captains Lily Mandel-Mueller and Alicia Hawkins, and senior goalkeeper Noemi Lucciola," Hegg said. "We were able to keep Mahopac off the board for the rest of regulation."
Somers freshman Julia Arbalaez had the decisive goal, her second of the game, as Giudice registered her team-leading seventh assist. Hegg made the necessary adjustments at halftime of the Greeley game and her team erupted with five goals.
"After losing 5-4, in OT, earlier this year, it seemed the game would be poised to be a dog fight after a scoreless first half," Hegg said. "We made adjustments at halftime and the players quickly executed. The first goal was an amazing give-and-go between Anne Maguire and Julia Arbalaez. After the first goal, we really found our rhythm."
Arbalaez finished with two goals, Mandel-Mueller, Giudice and Tiana Righetti also netted goals. Tori Righetti collected two assists.
"Senior Tori Righetti looks to finally be returning to form after suffering a knee injury earlier this year with her two assists," Hegg said. "I'm very proud of the way the players managed to take control of the second half. We need to bring a better mentality in the first half, but that will come with experience as we are still a very young team."
PANAS went 1-0-1 for the week, beginning with a 5-0 victory over PUTNAM VALLEY and closing with a 1-1 overtime draw with Our Lady of Lourdes. Kaylie Mellars had a career-high four goals against Putnam Valley. Giuliana Rodriguez added one goal and one assist and Kayla Guevara registered two assists.
"We focused on our offensive execution all week at practice and it showed in this game," Panas Coach Matt Schiff said. "We were able to connect passes through our central players and create spaces between their backline. We made purposeful runs into the box and were able to be dangerous all game."
Lourdes found a way to hold Panas to one goal, by Molly Mueller in the first half, before the Warriors evened the score midway through the second half.
"Lourdes put a ton of pressure on us in both overtimes but our defense played well and limited their opportunities," Schiff said. "I'm really proud of our team's effort today. They played tough through 100 minutes of soccer and ended with a good result against a quality opponent."
YORKTOWN sandwiched a win, 2-1 over Brewster, around a pair of defeats — 1-0 to John Jay-Cross River and 4-1 to Somers. Goalie Erisa Krasniqi made seven saves against John Jay.
Jules Vano opened the scoring, assisted by Katie Tomeny, for Yorktown against Brewster and she also assisted on Kaitlyn Judge's goal to make it 2-0.
"When Jules scored to make it 2-1, I was hoping it would boost us to play better and look to keep possession when we won the ball," Yorktown Coach Richard Armstrong said. "Unfortunately, Somers answered. Somers was the better team, but we will focus on our remaining three games."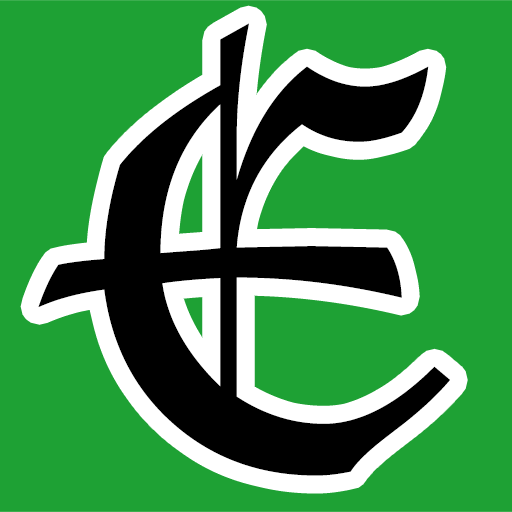 Examiner Media – Keeping you informed with professionally-reported local news, features, and sports coverage.