Supporters Continue Fight to Save GCA High School
We are part of The Trust Project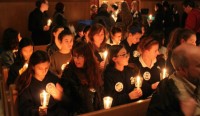 Despite a formal announcement by the Sisters of the Divine Compassion (RDC) that Our Lady of Good Counsel Academy High School (GCA) would close in June 2015, an organization of parents, teachers and alumnae are continuing the fight to keep the school open, or at least keep the tradition going.
Acting as spokeswoman for Save the Good Counsel Community Now, Inc., Laura Finneran, a member of the Save GCA Steering Committee, was a guest on the WFAS AM morning show Friday.
Her appearance on the show was part of an ongoing action plan by Save GCA to alert the public through the media to the demise of affordable Catholic education for girls and the organization's attempts to purchase the GCA campus at 52 N. Broadway in White Plains.
Even though Save GCA made an all cash bid for the property in January 2015, just before the announcement was made to close the school, they say in a February 12 press release that they were ignored.
The amount of the offer has not been made public, but Save GCA claims on their website that CBRE, the Stamford-based real estate firm marketing the property, has asked for developers to offer bids in excess of $23 million to $26 million.
Undaunted, the group continues to seek a solution.
A March 3 letter from Monsignor Edward Barry, Pastor at Saint Barnabas Catholic Girls High School in the Woodlawn section of the Bronx, addressed to Laura Finneran and her husband Timothy, a co-founder and officer of Save GCA, was the focus of the WFAS segment.
In that letter, Msgr. Barry offers his support and states that he had previously made an offer to the now dissolved GCA High School Board inviting them to take over control of St. Barnabas High School, rename the school Good Counsel, and at one dollar a year rent, would act as landlord.
That offer was declined by the GCA Board and the monsignor now wonders if Save GCA might be as interested in St. Barnabas High School as they are in the existing GCA campus.
In an email, Finneran told The White Plains Examiner that she could not comment on whether Save GCA was interested in pursuing the Bronx property because it might jeopardize current negotiations. She would not say what those negotiations were.
The Leadership team of the RDC through its marketing firm Thompson & Bender also said they would not comment, nor would Laura Donovan, RDC, principal of GCA High School.
At this time Save GCA does not have possession of the Good Counsel High School charter.
Our Lady of Good Counsel Elementary School, also located at 52 N. Broadway, was given the same July 1, 2015 move out date by the order's leadership team and earlier this year announced its plans to open in September 2015 at the site of the former Holy Name of Jesus School in Valhalla.
The sale of the 16-acre site at 52 N. Broadway comes at a time when other Catholic girl's schools are closing. Our Lady of Victory, Dobbs Ferry, shut its doors in 2011 and some of that student body was absorbed into GCA. St. Pius Girls High School, Bronx, also closed in 2011.
What all of these schools have in common is that they were established by Catholic organizations, some on the cutting edge of an American-style of Christian justice emerging during the late 1800s into early 1900s, to educate immigrant children –mostly European, many Irish– so they could find jobs. They eventually became college preparatory schools, and grew tremendously during a sort of Catholic School heyday during the 1960s.
With the recent recession, the financial status of schools offering a Catholic education took a tremendous downturn.
According to the National Catholic Educational Association, enrollment in the nation's Catholic schools has steadily dropped to less than half of its peak at five million students 40 years ago.
GCA was founded by Mother Mary Veronica, a wealthy New Yorker and a divorcee, who converted to Catholicism after raising a family. She founded the Sisters of the Divine Compassion with another Catholic convert, Monsignor Thomas Preston, and moved the order and the children they supported to White Plains a little over a century ago. The high school received its absolute charter in 1945.
GCA has a diverse student population, serving families from all over Westchester County, as well as the Bronx. Approximately 45 percent of the girls in the school come from Yonkers, and the rest come from other areas within a radius of about 25 miles. During the 2014-15 academic year the tuition was $9,900.
The Sisters of the Divine Compassion also have a girl's college preparatory high school in the Throgs Neck section of the Bronx. Preston High School, founded in 1947, serves students from Bronx, Queens, Manhattan and Westchester. The 2014-15 tuition was $8,945.
Saint Barnabas High School, inspired by the Sisters of Charity and their foundress Elizabeth Ann Seton, converted to a girls only school in 1928. The existing building was constructed in 1960. Tuition is $7,500 a year.
In building a plan for Good Counsel High School, Save GCA notes on its website that they worked out a 20-year plan for the facilities needs and determined that they had to get the current enrollment at 400, including the 2015 graduating class, up to 600 to 800 students.
In Msgr. Barry's letter, he indicates that the current enrollment at St. Barnabas is just over 200 students and the school is at risk of financial failure.
Addressing the declining enrollment at Catholic high schools, particularly girl's schools, Save GCA noted on its site: There is "a grave disparity in the number of seats (and cost thereof) available to Girls for single sex Catholic High School in Westchester when compared to what is available for Boys. Per our estimates, presently there are currently over 45 percent more seats available for Boys in single sex Catholic High Schools than there are for Girls and the cost for Girls schools is on average 20 percent more than Boys Schools. We consider this to be a shocking disparity and a clear crisis for Catholic Girls in Westchester County and Westchester's Catholic Community at large."
For comparison, we looked at the tuition costs at other local Catholic girl's and boy's schools.
The Ursuline School, New Rochelle, founded and run by the Order of St. Ursula is a girl's high school established in 1916. It moved to its current location on North Avenue in 1929. The 2014-2015 tuition was $17,680. The School of the Holy Child girl's high school was established in 1904 and in 1956 moved to its current location in Rye. Guided by the educational philosophy of Cornella Connelly, founder of the Society of the Holy Child Jesus, the 2015-16 upper school (grades 9-11) tuition is $31,200, Grade 12 $32,200.
White Plains' Archbishop Stepinac Boy's High School, founded in 1948, 2015-16 tuition will be $10,000. Iona Preparatory School Upper School (Grades 9-12), New Rochelle, founded in 1916, moved to current campus in 1967, 2015-16 tuition $16,400. Fordham Preparatory School, officially named in 1937, 2015-16 tuition is $18,410.