Support Connection Seeks Community Ambassadors for Annual Walk
Support Connection is seeking community ambassadors for its 2021 Annual Support-A-Walk, scheduled for Sunday, Oct. 3.
Community ambassadors are volunteers who help spread the word about the Support-A-Walk in their own communities. The event is Support Connection's most important annual fundraiser. Proceeds provide funding for its year-round breast and ovarian cancer support services, which have helped thousands of people since the organization was founded in 1996.
Once again this year, the Support-A-Walk theme is "Walk With Us, Wherever You Are." Support Connection's programs serve people nationwide, and this enables people nationwide to participate in the walk.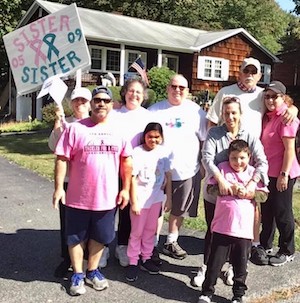 As the walk draws closer, there will be updates on the possibility of an in-person gathering at FDR State Park in Yorktown. But either way, people are still welcome to walk where they are, near and far. No matter where you live, you can join Support Connection and work together for a common cause.
In keeping this theme, community ambassadors are being sought in communities across the Hudson Valley and the country. There is no specific time commitment to be a community ambassador, and there are many ways to help. Share walk info and materials in your community, encourage friends and family to participate or donate and raise funds. Support Connection will provide guidance and materials for anyone interested in helping.
Support Connection does not receive funds from any national cancer organizations including Relay for Life, Susan G. Komen or Making Strides. By participating in or donating to the Support-A-Walk, community members can make a positive difference in the lives of women and families facing the challenges of a breast or ovarian cancer diagnosis.
To learn more about the Support-A-Walk or to volunteer, donate or raise funds, visit supportconnection.org/support-a-walk, or contact Support Connection at 914-962-6402 or walk@supportconnection.org.