Photos: Support Connection Honors Special Supporters
We are part of The Trust Project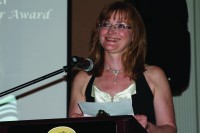 Celebrating it 15 year anniversary of helping women and their families deal with breast and ovarian cancer, Support Connection honored those who have given of themselves at its annual gala held at The Mansion at Colonial Terrace on Saturday, April 14.
"Our honorees come from many walks of life but share a common bond that enables us to offer hope and support to people dealing with breast and ovarian cancer," said Katherine Quinn, executive director of Support Connection. "Because of their belief in our mission, they help us provide free, confidential breast and ovarian cancer support services to those who reach out to us. The kind ness and generosity of our honorees makes a positive difference in many lives."
Dana Boulanger of Somers was recognized as the Humanitarian of the Year. A breast cancer survivor, she took the activities that Support Connection opened her up to yoga and meditation, and found a way to pass the knowledge on to others. She started publishing Natural Awakenings Magazine with her business partner Marilee Burrell.
"I was given a gift, namely, the chance to make a difference not only in my own life but in the lives of others," said Boulanger. "Support Connection helped me to embrace the power I had within to fight the battle of my life. Now I feel it is only natural to share the same spirit of giving with others."
Jane Gentile of Yorktown is a breast cancer survivor who along with her husband Jim, was a 2011 ambassador for Support Connection's annual Support-a-Walk. She was honored with the Spirit of Hope Award.
"When my spirit was broken and I felt that all hope was lost, it was my family, friends and Support Connection that helped me put my life back on track," said Gentile. "My hope is to continue to be an important part of Support Connection by volunteering and spreading the word about this great organization."
Sister-in-laws Brenda Maxwell and Margaret Zulkowsky, both of Yorktown,  were not only awarded the Beacon of Light award, but the duo were also named the 2012 ambassadors for the Support-a-Walk. Maxwell, was one of the organization's earliest volunteers and was diagnosed with ovarian cancer in 2010. Zulkowsky who started volunteering in 1996 was diagnosed with breast cancer in 2009. Zulkowsky has been cancer free for a year. Maxwell is still fighting the battle.
"Receiving the Beacon of Light award along with my sister-in-law Margaret makes me feel proud and makes me truly want to be a 'beacon of light' to those that will someday also face breast or ovarian cancer," said Maxwell.
Zulkowsky was also humbled to share the distinction with Maxwell. "I hope to be a role model for others dealing with this disease," Zulkowsky said.
In addition, 15 unsung heroes were praised for their commitment to Support Connection.  Those who were applauded include Mary and Peter Fellbusch of Absolute Flooring, Inc., Al Avitabile, Mia Azcue, Celeste Baccari, Brian William and William Perillo of Brian William Event Decorators, Kristen Burke, LeeAnn Byrne, the Davidson family, DeCicco Family Markets, Joe Guiliano of Yorktown Pizza, Sari Martin, Brianca Giannetta of the Moms of 2411 Support-a-Walk team, Mary Heagle, Freddy Orzechowski, Susan Petroccione and Jo Vasta.