SUNY Schools Provide Excellent Opportunities Close to Home
This is the second of a two-part installment featuring popular State University of New York (SUNY) colleges.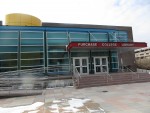 By Gina Valentino
The hectic process of applying to college is well underway and if you're a high school senior chances you're wondering where you will spend the next four years.
You don't have to know where you want to go or what you're going to study yet. However, you should be confident that the schools to which you are applying offer first-rate education with exceptional opportunities at reasonable tuition rates.
With 64 colleges and universities, the State University of New York. (SUNY) network is the largest public university system in the United States, offering thousands of degree programs and exclusive research opportunities. The SUNY network includes three million alumni.
For Westchester residents, two of SUNY's schools are located close to students' backyards, enabling them to save more money on travel and room and board. Purchase College, a four-year school, is one of the top public liberal arts colleges in the nation, and Westchester Community College offers a two-year associate's degree in liberal arts and business.
SUNY's connections with local institutions, including hospitals, medical centers, law school, and businesses provide students with practical learning experiences. Students can perform research in the field of their choice alongside scholars and professionals. They also have the option of studying abroad through any one of the 600 SUNY international programs.
"(SUNY) has historically offered students an affordable, accessible higher education that is second to none," said SUNY Chancellor Nancy L. Zimpher.
The system's popularity is reflected in the increase in applications received by SUNY's 29 four-year schools across the state. In 2007, before the onslaught of the Great Recession, there were 288,632 applications submitted by prospective students. That number jumped markedly to more than 320,000 by 2009 and has edged upward to 327,616 by last year, according to statistics provided by the chancellor's office.
These colleges and universities appeal to students from Westchester because of the schools' proximity to home and superior educations. SUNYs receive both private and state support, which allows the schools to expand and improve both the campuses and academic programs, ensuring that students are consistently provided with the highest quality resources.
Purchase College
Purchase, located within the Town of Harrison, was chosen as one of the top 10 public liberal colleges in the nation by the U.S. News & World Report, 2016. The most popular majors at Purchase are the liberal arts, including social sciences and humanities.
Purchase incorporates culture into student life on campus. The college offers professional conservatory training programs in the visual, performing and theater arts. The only teaching museum in the metropolitan area – the Neuberger Museum of Art – is located on campus and contains modern, contemporary and African art. The college's proximity to New York City offers students the opportunities to perform, research and learn in the city.
Ardsley resident Dylan McNamara called her decision to attend Purchase "the best choice I ever made."
"The school is small, close-knit and very artistic, which I loved," McNamara said.
Students can be independent, but also feel like they are a part of the community," she continued.
For her political science major, McNamara participated in a yearlong research project and wrote a 60-page thesis, which helped prepare her for graduate school. Additionally, she held internships with urban development organizations and was involved in special interest groups on campus, which helped provide a culturally rewarding experience.
One of the greatest benefits of Purchase, McNamara found, was the chance to connect with professors on a personal level because of small class sizes.
"It's a wonderful, creative place with faculty who really cares," said McNamara, who transferred to Purchase for her junior and senior years and regrets not making the school her original choice.
As she prepares to attend graduate school, she is grateful for the quality of education without hampering her with debt.
"I really don't think there is a better choice than a SUNY school, and Purchase was the one for me – academically, socially and financially," McNamara said.
The school's athletics program is in Division III and includes baseball, volleyball and tennis. Purchase's student groups include cultural groups, student government, and drama club. Nearly a quarter of its student body (23 percent) are from Westchester.
New Paltz
SUNY New Paltz is located in its namesake town, a convenient spot that is easily accessible from New York City and Albany. Some of New Paltz's popular majors are business, including management and marketing, education and social sciences.
The school is undertaking a multimillion dollar library renovation and is constructing a new science building, both of which should be completed by next year. New Paltz boasts three on-campus theaters and the Samuel Dorsky Museum of Art, which includes American art emphasizing the Hudson Valley and the Catskills.
There are more than 200 student organizations on campus, including a student newspaper, resident hall student association organizations and sororities and fraternities.
While an undergraduate student at New Paltz, Shannon Fabiani became interested in environmental studies through her coursework. Professors encouraged her to apply what she learned in her academic lessons to practical use on campus. She interned for New Paltz's Sustainability Committee and later worked for the sustainability coordinator.
Fabiani, a Bayport, N.Y. resident, helped initiate a ban on the sale of disposable water bottles on campus and coordinated a semester-long "energy savings" competition among the dormitories, which challenged students to be environmentally conscious. She had the opportunity to work directly with administrator professors, outside organizations and students.
"SUNY New Paltz enabled me to learn a lot about the field I was soon to enter, and a lot about myself," Fabiani said.
Many state students, who chose to continue their education, pursue multiple degrees within the SUNY system. Fabiani is now a graduate student, pursuing her master's degree in environmental studies at SUNY Environmental Sciences and Forestry College in Syracuse.
Westchester Community College
One of the most popular college choices for local students is Westchester Community College (WCC). Ninety percent of all currently enrolled students are county residents.
There are several satellite locations scattered throughout Westchester, with the main campus in Valhalla. WCC offers more than 60 associate and certificate programs, although the majority of students are liberal arts and business majors.
The college is home to a cutting-edge library and boasts a highly regarded honors program. Socially, there are dozens of student clubs and cultural events. A highlight of the campus is the Career and Transfer Center, which exclusively helps students obtain jobs after graduation or helps prepare them to transfer to a four-year institution.
SUNY professors and career development faculty work hard to ensure students feel confident about their path after college. SUNY schools foster students' academic interests and help them either pursue further education or immerse themselves in their chosen field upon graduation.
Scott Diaz of Yonkers recently earned his associate's degree from WCC and is now attending Lehman College, a public college within the CUNY system. His coursework at WCC allowed him to explore different academic areas and ignited his interest in social work, which is now his major.
WCC prepared Diaz for a smooth transition to Lehman. The two colleges worked collaboratively to ensure students like Diaz have a painless experience transferring their course credits and adjusting to a new campus.
Diaz said the admissions office at Lehman was helpful in enrolling him as a new student and the friendly student population has made him feel welcomed. At both schools, Diaz said he appreciated the small class sizes, which allow for individualized attention.
"The professors exhibit a caring nature towards their students," he said. "They want us to succeed and are interested in getting to know us personally."
He said one of the greatest resources of Lehman is a campus program, which offers tutoring in all subjects, which helps students stay on top of their studies. The tutoring center and Information Technology Center provide students with "great havens for studying and research for schoolwork."
As Diaz enters his second semester at Lehman, he is grateful for his experiences so far and understands the powerful impact of the SUNY network.
For more information about each of SUNY's 64 colleges, visit www.suny.edu.