SUNY Colleges: Top-Notch Education at the Right Price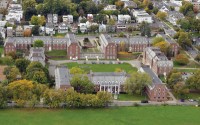 This is the first of a two-part installment featuring some of the most popular State University of New York (SUNY) colleges.
By Gina Valentino
The holidays are over but for high school seniors the most stressful time of the year is underway – submitting college applications.
From the countless hours spent surfing university websites to preparing for the SAT, from nervously asking your sophomore year geometry teacher for a letter of recommendation (and hoping he remembers you well enough to write a good one) to writing those dreaded school-specific essays, the process can be overwhelming.
Like many graduating seniors, it's still uncertain where you may want to spend the next four years. That's okay.
There's no standard for choosing the right college, but answering a few simple questions can help narrow your quest.
Do you want a small or large school? To be near a major city or in a small town? Do you want to be able to follow your college's athletic teams? Do you know what your major might be? Do you want to be closer to home?
For an increasing number of students, the State University of New York (SUNY) system has been that choice.
SUNY is the largest university system in the United States with 29 state-operated campuses offering a wide array of degree programs,
30 community colleges and five statutory colleges at Cornell and Alfred universities.
"What really sets [SUNY] apart is that we are a system," said Chancellor Nancy Zimpher. "So, in addition to what one campus can offer a student, a researcher or a business partner, our colleges and universities provide them with access to all of SUNY."
These combined resources allow students to collaborate with scientists and scholars, participate in innovative research in science, technology, medicine, information technology and other specialty fields. The interconnected system means students can take advantage of more than 600 study programs abroad in more than 50 countries. Regardless of the school a student attends, he or she may choose to study, volunteer or intern through any SUNY international program.
SUNY has consistently attracted Westchester students for the quality education, relative proximity to home and reasonable tuition costs, which depending on the school, costs about $20,000 a year and includes tuition, room and board and miscellaneous fees. It has the advantage of receiving private and state funding, which allows each campus to constantly retool and enhance academic programs and infrastructure.
Tania Greco, longtime guidance counselor at Westlake High School, said SUNY schools have become a wildly popular college option among students, where local applicants can find happiness and affordable tuition.
"In this tough economy, I would be doing my students a disservice if I did not encourage SUNYs as a frugal option to help them avoid massive debt they could encounter as a young adult starting in life," Greco said. "I believe they get a solid education for a great price."
Stony Brook
Stony Brook University, located on Long Island's North Shore, was chosen as one of the top 100 universities (tied for 89th) in the nation for 2016 by U.S. News & World Report. Known for its stellar science programs, Stony Brook's most popular majors include health science, psychology and biology. The university opened a multimillion dollar computer science building during the past year and plans to unveil a new pharmacy school by 2018 to complete its Health Science Center, which also includes a dental school, medical school and nursing school.
Stony Brook boasts the world-class Charles B. Wang Center and the Staller Center for the Arts, where students have access to performing arts, lectures and film screenings.
The school belongs to NCAA Division I athletics offering 20 varsity sports. There are more than 300 organizations for students to join, including fraternities and sororities, honor societies and special interest groups. Last year, about 3 three percent of Stony Brook's enrolled students were from Westchester.
Brooke Learned, a 2013 Stony Brook graduate, attributes her smooth transition from college to medical school at the University of New England in Maine to her undergraduate program's pre-med track. A student in the undergraduate biology program, Learned said she was encouraged by professors to "think like a scientist," designing her own experiments, writing formal research papers and interpreting peer-reviewed articles.
She also conducted an independent research project in Jamaica and researched alongside Stony Brook's marine biology professors.
"SBU strives to produce leaders in science and medicine by emphasizing the importance of research, critical thinking and scientific literacy," said Learned, a Westbury, L.I. native.
Albany
The University at Albany's location in the capital region offers students unique internship opportunities, such as with the state legislature and various agencies. But Albany's criminal justice, information and technology management, public finance and policy and business administration programs have earned national recognition for excellence.
This year, Albany introduced The College of Emergency Preparedness, Homeland Security and Cybersecurity, the first program of its kind in the country.
Two new state-of-the-art facilities, the business school building and football stadium, were recently unveiled. One of the campus' identifying architectural elements, the main fountain, was also revamped.
Culturally, Albany is home to its own contemporary art museum and a performing arts center. The Great Danes compete in Division I athletics, gaining national acclaim for its basketball and lacrosse programs. Club sports, a student-run television station and campus ministry are among the school's more than 300 student organizations.
Its programs attract students not only from throughout the state but across the nation and abroad. (Six percent of Albany's current student body is from Westchester.) Four years ago, Peter Hooley left Adelaide, Australia to attend Albany, braving northeastern winters to play Division I basketball, but he has also involved himself in other aspects of the school. He participates in the journalism program and was recognized with the SUNY Chancellor's Award for Student Excellence this year, given to students who achieve academic honors and contribute to campus life.
Hooley helped organize a fundraiser for cancer research and awareness in honor of his mother, Sue, who passed away last year. The local community, students and alumni raised $12,000.
"This place has been great for me," said Hooley, currently enrolled in Albany's communications graduate program.
After he graduates this spring, he will most likely return to his family's farm in Adelaide, but he won't soon forget his home for the past four years away from home.
Binghamton
Binghamton University, located in Vestal, N.Y., is ranked as one of the top 20 four-year public colleges in the nation, according to a 2015 report from the American City Business Journals. Popular majors are psychology, business administration and biology. The university is home to an Innovative Technologies Center (ITC), which includes three buildings that consist primarily of research spaces. Construction of a fourth ITC building is underway.
Binghamton will be opening a new School of Pharmacy and Pharmaceutical Sciences in fall 2017. Students are exposed to notable exhibits and collections at the on-campus art museum, which houses and serves the school and local community. Binghamton's Bearcats compete in Division I athletics.
At Binghamton, there are more than 250 student organizations, including club sports, debate teams and pre-professional organizations. About 7 percent of its students are from Westchester.
Hartsdale resident Diana Sireci will be graduating in May from Binghamton's four-year bachelor's program in nursing. The program prepares students while engaging them in hands-on learning in clinical work, laboratory study and research.
Sireci has taken advantage of the program's "small school within a large university" by making personal connections with her professors and helping them conduct in-depth research. Since her freshman year, she has participated in research on the effects of tobacco use and has presented her work at conferences throughout the Northeast and has had her findings published.
SUNY understands the value of an international education and encourages all students, regardless of academic program to study abroad. Despite her demanding nursing path, through coordination with advisers, she was able to spend a semester in London.
Sireci said that the reasonable distance to school allows her to visit home and friends often on weekends providing her "with a piece of home in Binghamton."
As Sireci approaches graduation, she said her diverse experiences in college and her high quality education have prepared her to enter her professional field and that she is confident that her degree from Binghamton is held in high regard.