Sunshine CrossFit and Athletics in Bedford Hills Offers a Supportive Oasis For All
We are part of The Trust Project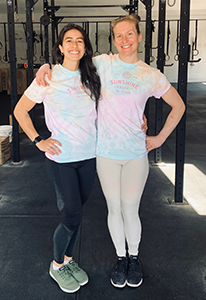 Bedford Hills has a new "box" of sunshine.
Sunshine CrossFit and Athletics, a new gym, (or box, as it's called in the CrossFit community) brings physical fitness mixed with fun and inclusiveness to Bedford Hills.
Sunshine CrossFit, owned by Catherine Brodsky and Ana Montoya, is a supportive, welcoming oasis to all. CrossFit is a strength and conditioning workout comprised of functional movement performed at a high-intensity level.
CrossFit can often seem intimidating to those who may not work out regularly. Brodsky and Montoya wanted the name of their business to signal that anyone of any fitness level can stop in.
"We wanted something that sounded powerful and welcoming and inviting and not always about chasing that top, top intensity involved," Brodsky said. "We wanted a name like the sun, where it rises every day; you come every day and feel a little bit better about yourself."
Sunshine CrossFit inhabits the space formerly occupied by CrossFit Bedford Hills. They have transformed the site, painting it bright white with a vibrant sun splashed across the gym's walls.
Brodsky and Montoya haven't always been CrossFit enthusiasts. They opportunity occurred by chance.
Montoya, 31, was a fitness advocate her entire life, having worked at multiple gyms. But she wouldn't call herself an athlete.
"I got into CrossFit literally here [CrossFit Bedford Hills]," Montoya said. "I was working across the street at the time and stumbled in. I did the first intro session with a friend because I was terrified. I had no athletic background; I wasn't a sports person. I had been around fitness a long time, worked at gyms before, and I knew I wanted to be a fitness person. I came here and just got hooked."
Montoya loved CrossFit so much, she became a certified coach and worked full-time at Crossfit Bedford Hills.
Brodsky, 42, became a CrossFit advocate after her brother took it up and lost 70 pounds. Looking to become active, Brodsky joined Crossfit Bedford Hills. More than three years later, Brodsky dropped 80 pounds and fell in love with working out, so much so that she earned her Pilates teaching certification.
"It opened me up to what fitness can do for you," she said. "The physical transformation is easy to see, but it was the mental transformation that kept me coming back and engaged."
Montoya and Brodsky connected in the gym, but when COVID-19 hit, the pair leaned into Zoom workouts to continue the momentum.
"Throughout COVID, the box was what held us together," Brodsky said. "Through the Zoom workouts, I felt like I could really connect to people."
Brodsky and Montoya first started talking about opening their own studio during the pandemic. When gyms reopened in New York late last summer, there was a new opportunity to take over the space and rebrand.
"We were ready for our next step," Brodsky said.
The pair moved into the studio in April, and opened the doors last month.
Besides CrossFit, their business offers Pilates, TRX classes, barbell clubs, children's classes and more. On any given week, Sunshine CrossFit offers more than 35 different classes for people of any activity level. Brodsky and Montoya coach many of the classes themselves.
They are looking to expand membership and attract new people from all walks of life to further share their love of fitness.
"We want to build membership. We want to build a community," Montoya said.
Sunshine CrossFit and Athletics is located at 56/52A Babbitt Rd. in Bedford Hills. For more information, visit www.sunshinecrossfit.com. Also, follow Sunshine on Facebook at www.facebook.com/sunshinecrossfit and on Instagram at @sunshinecrossfit.