Study Suggests Ossining Should Declare Housing Emergency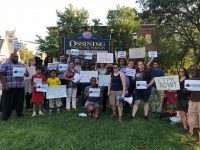 Following years of controversy over affordable housing and rent stabilization in the Village of Ossining, a housing vacancy study revealed that Ossining officials should consider declaring a housing emergency.
The study, conducted by Collective for Community, Culture and Environment, was presented to village officials during a work session last Wednesday. The report found that Ossining has a 3.06 percent vacancy rate in the village, putting it within the bounds of eligibility to adopt Emergency Tenant Protection Act (ETPA).
"It seems to us that there are many properties that are eligible to be looked at in terms of whether there is or is not a housing emergency in the village," said Yvette Shiffman, planning consultant for Collective for Community, Culture and Environment. "That is, of course, not something that we will do but it remains for the village to determine what to do with this analysis."
A municipality can formally adopt the Emergency Tenant Protection Act under the condition that there is less than a five percent housing vacancy in the jurisdiction.
Shiffman said buildings with less than 10 units had a 3.26 percent vacancy rate; 3.8 percent in buildings with 11 to 17 units; and 2.90 percent in buildings with 18 or more units.
Under the act, the village could choose to enforce a rent stabilization policy for all buildings constructed before 1974 with six or more units.
ETPA would ensure that tenants are offered one or two-year leases and that apartments receive proper maintenance. It would also protect tenants from being evicted except on grounds allowed by law, illegal rent increases, landlord harassment, and allow a rent freeze for certain senior citizens and people with disabilities.
Since the act's conception in 1974, 19 neighboring municipalities, including Croton-on-Hudson, Dobbs Ferry, Sleep Hollow, Pleasantville, Port Chester and Tarrytown, have enacted ETPA.
Prior to the work session, advocacy group Community Voices Heard rallied in support of the act and pressed lawmakers to urgently amend what they believe is a village-wide crisis.
"Tenants are living with a day-to-day threat that their rents may be raised drastically, while their incomes remain stagnant," said Marcela Levin. "ETPA is one part of a bigger solution to the crisis. It is urgent that the village board act on ETPA, so we can move on to other critical priorities to make Ossining a stronger community for everyone."
Sheila Vereen-Massengale said she was targeted by a landlord who wielded his power and refused to renew her lease after she was discovered advocating for ETPA. Without ETPA protection, she said her family and many others are susceptible to losing their home.
If adopted, more than 1,200 apartments in Ossining would be eligible for rent stabilization, making it the largest expansion of rent stabilized housing in the state in two decades.
Vereen-Massengale said residents shouldn't have to worry if they have a place to call home. The longer this situation goes on the more tenants will be put out of their homes, she said.
"Ossining needs a preservation tool to curtail unscrupulous landlords who focus only on profit and not on community," Vereen-Massengale said. "We are clear that the landlords will survive but our families will not. That's why there's no more time to delay."
The Village Board will have a public hearing on the ETPA proposal on September 5 at Village Hall.