Student Design Project Brings Poetry and Art to Empty Storefronts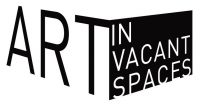 Combining poetry and art to bring thought-provoking images to entertain shoppers in downtown White Plains has become an annual tradition. This is the fourth year the White Plains BID (Business Improvement District) and a SUNY Purchase design class have combined efforts to bring new artwork to vacant storefronts in some areas of the White Plains downtown.
The goal of the project has been to improve these empty spaces with artwork thereby creating a more pleasing and vibrant environment for those who live, work, and shop in the downtown.
Students from Professor Warren Lehrer's Community Design class, as part of their work for the semester, which focuses on pro-bono work to better the community, created visual poetry artwork based on poems by award-winning writer/actor Judith Sloan. Sloan interviewed several downtown stakeholders regarding their perceptions and feelings about White Plains (and the world), which gave rise to several themes and phrases to guide the students' work.
Of the poems, Sloan says, "This year's themes focused on history: of a family over the course of a century in White Plains, of a building over decades; internal states of being—hope, desire, love of nature; celebrating the strength of women, and the power of resilience."
This year, eight students worked together to transform six vacant storefronts on South Broadway. The author of 10 books, Professor Lehrer, whose own work is heralded as fusing design and literature, said, "The art that students came up with this year featured typography as landscape and as metaphoric expression of interconnectedness; windows were used as frames of a comic strip; paper dolls were photographed and recast as monumental yet familiar figures; and drawings depicting three generations of clothes and tools illuminated a handwritten setting of a poem about working."
Lehrer received a 2017 Design Educators Award for the White Plains Storefront project from Design Incubation, a national organization that fosters dialogue between design educators, and grants awards for excellence in teaching and research.
White Plains Mayor Thomas Roach, who has been supportive of the project since its inception in 2015, said, "Art in Vacant Spaces has brought art and poetry to our downtown, sparking conversation and enlivening spaces that are currently not being utilized. We have been fortunate in White Plains to see our vacancy rate go way down. And while we continue to work to reduce it further, this initiative has provided a positive interim use for these spaces."
The Art in Vacant Spaces installations will be on display for three months or until the individual properties are rented.
To read the poems, view the art and download a free audio tour, visit www.wpbid.com/art.