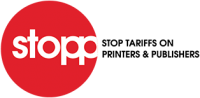 As you know, there is a fight underway in Washington D.C. to save jobs in the printing, book publishing, and news industries AND preserve the distribution of news and information in local communities. 

We are fighting against a single mill, North Pacific Paper Company (NORPAC), which is owned by a New York-based private equity firm that has no additional pulp or paper operations in the United States other than in Longview, Washington.  NORPAC has roughly 300 employees compared to the 600,000 workers in the publishing and printing industry that are affected by tariffs on imported Canadian newsprint. 

The tariffs – which are really a tax on the sale of newsprint – range as high as 32 percent. Printers and publishers are already feeling the effects, with price increases as high as 30% and shortages in supply. Many local newspapers and printers cannot absorb these costs and are taking unfortunate measures which include eliminating jobs, reducing the number of delivery days for printed newspaper, and cutting operations which includes news coverage.  These tariffs are already impacting local communities across our country.

Bottom line – we are fighting for you. And we could use your help!
What you can do:
Sign our petition here:

 

https://www.stopnewsprinttariffs.org/join-the-fight-to-protect-u-s-jobs

 

that will be sent to the International Trade Commission
Forward this email to five others – family, friends, neighbors, etc… – with a note asking each to get involved to protect jobs in our community and the printing, publishing and newsprint industries.
Thank you!
STOPP Coalition