Stepinac Wins Fourth CHSFL AAA Championship in Five Years
We are part of The Trust Project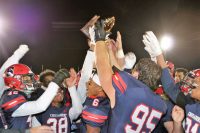 Crusaders Beat Hayesmen, 29-18, to Repeat as AAA Champs
NY Giants wide receiver Odell Beckham, Jr. could learn something from the 2018 Stepinac High School Varsity Football Team. When your team is 1-7 and your season is on the line, no need to talk publically about winning the final games of the regular season and a Championship; just go out and do it.
Yes, since Beckham announced his plan to win the final eight games and a Championship, the Giants have won two crucial games. Nonetheless, Stepinac's record was 1-4, after losing to Chaminade High School, on Oct. 6 and they made no public predictions or announcements. All the Crusaders did was battle on the gridiron to win six straight games and the CHSFL AAA Championship.
"What we went through at 1-4 and coming out and winning every game since, makes this feel even more amazing," commented quarterback Joey Carino. The junior quarterback had a remarkable game for the second seeded Crusaders, while completing 10-of 16 passes for 234 yards and three touchdowns without an interception.
The Crusaders have put their resiliency on display since Oct. 6, and they did again in the AAA Championship Game, while erasing a 12-point deficit to defeat the sixth seeded Cardinal Hayes High School, 29-18, to win the 2018 CHSFL AAA Championship.
"This time of the year, either you put your gear away or your opponents put their gear away, so they knew what was at stake," said Stepinac Head Coach Mike O'Donnell. "It was not easy when we were 1-4 and people were saying that things were bad and bleak. But the players kept working hard and did not listen to the outside noise. My hat is off to them, they did a great job and are a great group of players."
The Crusaders advance to the CHSAA AAA New York State Championship Game. They will face Monsignor Martin Conference Champions St. Francis High School from Buffalo, at Stepinac High School, on Mamaroneck Avenue, in White Plains, on Saturday,
at 1 p.m.