Stepinac Retires Bob Hyland's Jersey-Mayor Roach Presents Proclamation
We are part of The Trust Project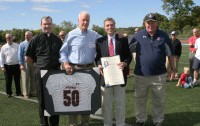 Stepinac High School celebrated the 50th Anniversary of their class of 1963 before the Crusaders home game against Chaminade High School on Saturday.
In association with the event, the Stepinac football program retired the number 50 jersey of famed alumnus Bob Hyland (1963), a star player on the Crusaders football team for four years.
Hyland, presently the proprietor of the Sports Page Restaurant, on Hamilton Avenue, in White Plains was surprised and thrilled. "This was completely unexpected and greatly appreciated, but I never expected my number to be retired," said Hyland.
Besides his famed Stepinac jersey being retired, City of White Plains Mayor Tom Roach attended the event with his son Lawson to present Hyland with a Proclamation. "We are declaring today Bob Hyland Day in the City of White Plains," said Mayor Roach. "It is well deserved and I am pleased to see his number being retired."
Ironically, it was Roach who defeated Hyland in the 2011 White Plains Mayoral election. "Bob is White Plains born and bred. He was a giant in the sport of football, a gentleman and a strong community person. I had to campaign against him in the last Mayoral election and there was never a crossed word," complimented Roach.
Hyland is the Vice President of the Stepinac High School Foundation. He was instrumental in getting the new Multi Surface Turf Field constructed at Stepinac in 2011. "Bob Hyland is a great man. He has done a lot for Stepinac and the City of White Plains and it was nice to honor him on the 50th Anniversary of his class," acknowledged Crusaders Head Football Coach Mike O'Donnell.
Hyland is a graduate of Boston College and played 11 years in the National Football League. He played for the New York Giants, Chicago Bears, New England Patriots and he won a Super Bowl with the Green Bay Packers, under Head Coach Vince Lombardi.
"This school is a great asset for our community. I think the type of young man who graduates from this school can be a positive influence wherever he decides to go," proclaimed Hyland.
Hyland was accompanied to the event by his wife Liz and his young nieces Ava and Emma Iannetta.