Stepinac Football 2012-The Coaches Story
We are part of The Trust Project
The 2012 Stepinac High School Football season will kick-off at home against Monroe Woodbury High School, in the Joseph R. Riverso Memorial Game, on Saturday, Sept. 8, at 7 p.m.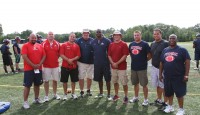 The Stepinac varsity football team will be led by Head Coach Mike O'Donnell marking a quarter-century that O'Donnell has lead the Crusaders. O'Donnell is also in his seventh year as Athletic Director, while working with Stepinac for a total of 32 years.
This year, while celebrating his 25thseason at the helm, O'Donnell will be inducted into the Stepinac Grid Iron Club, on Thursday, Sept. 6. "It is a great honor to be recognized with the other great people that are going to be inducted," modestly stated the Crusaders Head Coach.
O'Donnell will be supported on the gridiron this year by a hardworking and dedicated coaching staff. "I am always proud to say that I am part of this staff," said O'Donnell.
Associate Head Coach Joe Spagnolo starts his sixth season as Offensive Coordinator. Jonathan Demarco will again assume his role as Defensive Coordinator for his ninth year. Andy Martinez returns for his third year as Offensive Line Coach. Sheddrick Wilson begins his second year as Wide Receivers and Skills Coach. Steve Moroney will instruct the Defensive Line for his second year and Sanjay Sing is the Strength/Conditioning and Running Backs Coach. This year the staff welcomes former White Plains Bernies Coach Joe Palatucci to the staff, as the Line Backer Coach.
Undeniably, the core of the Crusaders coaching staff is O'Donnell, Spagnolo and Demarco, who have spent six years together coaching at Stepinac.
O'Donnell and his family reside in White Plains. He has been married to his wife Carla, who teaches at PS 121,in the Bronx, for 24 years,. They have a daughter Margaret, who attends Fairfield University and two sons, Conor who plays football at Catholic University and Liam who is presently on the Crusaders football team.
O'Donnell's contributions to high school football are many. He was awarded the NY Daily News Suburban Coach of the Year five times, Lohud.com Coach of the Year in 2010 and selected as a MSG Network NY Jets Coach of the Week and a MSG Network NY Giants Coach of the Week in 2007 and 2011 respectively.
O'Donnell also serves on the Catholic High School Football League Board of Governors, Con Edison Scholar Athlete Award Committee and was the Grand Marshall of the White Plains St. Patrick's Day Parade. He also received the Cardinal O'Connor Service Award in 1999.
Defensive Coordinator Demarco graduated from Stepinac in 1991 and was a four year starter for Wesleyan University ('95), before attaining a MBA in Finance from Bryant University (2000), while simultaneously working as an assistant football coach for the Bulldogs.
If you are looking for Demarco off the field, he has a successful career as a Commercial Banker with Citibank, in Stamford, Conn. He is also a part owner of The Rye Roadhouse Restaurant.
Spagnolo also is busy away from the Crusaders. He is a Commercial Real Estate Appraiser, in Mamaroneck. "Spags" as he is affectionately known by friends, mentioned what he likes most about coaching at Stepinac. "The caliber of children that we get here; it is a good blue collar school where academics come first," commented Spagnolo, who was married to his wife Laura in July 2011.
Martinez is also an Assistant Dean of Students at Stepinac. "I get to help many children in different ways," stated the Offensive Line Coach. "I get a chance to affect many children's lives; if they have an issue they can always come to me and work it out," stated Martinez.
Martinez graduated from White Plains High School in 1997. He played on the 1995 Tigers Bowl Championship Team that went 9-1, under Head Coach Mark Santa-Donato, who is now an assistant Coach for WPHS.
Wilson and Moroney were both very welcomed additions to the Stepinac coaching staff last season. Moroney graduated from Chaminade High School in 1998. He went on to play at the University of Pennsylvania from 1998-2002, where he was a Team Captain for three years.
Moroney was very influential in helping Stepinac's Austin Taps, attend the University of Pennsylvania after graduation last year. Taps was the 2011 CHSFL Defensive Player of the Year.
When O'Donnell read Wilson's resume, he was so impressed he remembered thinking, "something has got to be up here."  Wilson was a four-year starter and wide receiver for Louisiana State University before playing four years in the NFL with the Philadelphia Eagles, Tennessee Titans and Houston Oilers.
Wilson sustained a spinal cord contusion in 1980 while playing for the Philadelphia Eagles. He was paralyzed for eight hours. After the injury he decided to hang-up his cleats.
Wilson moved to White Plains in 1997 and became interested in coaching at Stepinac after watching a couple of Turkey Bowl games. "I just wanted to give back to the community through football and help young men become great men," stated Wilson.
"I got tired of watching young men walking around with their pants hanging down, cursing and acting in a manner that I thought was not conducive to having a successful life," explained the Crusaders Assistant Coach. When O'Donnell finally met and interviewed Wilson, he welcomed him with open arms.
Wilson is married to his wife Nancy and he and his first wife Daphne gave birth to a son Devon Pierre who has autism and attends The Jesse Kaplan School in Rockland County.
Condolences go out to Assistant Coach Joe Spagnolo and his family for the loss of his grandmother Rosalie Deleon who passed away in August.