State Policy, Funding Handcuffs Residential Treatment Facilities
We are part of The Trust Project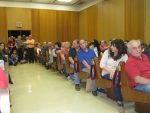 Representatives of two Mount Pleasant residential treatment centers for youths whose facilities are under fire for repeated violent incidents criticized changes in state policy that prohibits staff from proactively intervening before a situation is out of control.
James Gaudette, superintendent of the Mount Pleasant Cottage School Union Free School District, and David Rivel, CEO of the Jewish Board of Family and Children's Services who spoke on behalf of Hawthorne Cedar Knolls, also pointed to state funding issues, which has contributed to the problem.
Gaudette said facilities such as the Cottage School on Broadway should be allowed to physically intervene similar to police officers who spot criminal mischief, but staff members are now prohibited from doing that.
Gov. Andrew Cuomo's creation of the Justice Center to investigate abuse in institutional settings has had "a chilling effect" on staff, Gaudette said. As a result, staff may only intervene physically when a youth is overtly aggressive.
"I think if we can correct this discrepancy to empower staff in such a way as to reasonably physically intervene prior to actual violence, much will be improved   both inside and outside the agency boundaries," he said.
More than 300 residents attended a May 23 community forum at Mount Pleasant Town Hall demanding solutions to end the series of incidents that many residents argued have been taking place for years at Hawthorne Cedar Knolls on Linda Avenue. Officials from both facilities were not invited to attend that forum, the two representatives said.
A second meeting has been scheduled for this Friday, June 10 at 6 p.m. at the Mount Pleasant Community Center, located at 125 Lozza Drive in Valhalla.
Rivel also criticized state policy regulating the facilities. Measures have been taken to make the centers safer but there are obstacles.
"The truth is that the community, and the police, would not have become involved in many of the incidents on campus if state regulations didn't require us to notify the authorities about things our own staff used to handle themselves," he said.
Hawthorne Cedar Knolls has installed additional security cameras, replaced emergency pull alarms with alarms that can only be activated by a key and set up a 24-hour hotline where local residents can call with their concerns. Also, 26 additional staff members have been hired, Rivel said.
"If the state can provide more funding, there are additional security measures, staff and programming we could add," he said.
However, the Rate Setting Unit of the state Education Department (SED) has been questioning that increase in hiring, potentially jeopardizing state funding if the unit determines the facility has access to additional resources, Rivel said.
Compounding the problem is that Cottage School students have been moved from detention facilities to community-based programs without additional funding, which has contributed to the increase in violence, Gaudette contended.
He said students come from a variety of situations, many having experienced traumatizing events that have inflicted serious emotional wounds. Many students often have special education needs and/or psychiatric involvement.
At Hawthorne Cedar Knolls, staff advises students against leaving campus, Rivel said. Some who have disobeyed have run into trouble with local police. In the past year, the number of times that has happened has dropped; only three youths have been arrested off campus, Rivel said.
"Hawthorne Cedar Knolls isn't a prison," he said. "Kids come here for help voluntarily and state regulations prevent us from restraining those who insist on going off site. We try hard to discourage them, and if they do leave, we follow them, on foot and in vehicles, to convince them, usually with success, to return."
State Sen. Terrence Murphy (R-Yorktown) said Monday that progress has been made at the two facilities. Murphy and Assemblyman Thomas Abinanti (D-Pleasantville) met last week in Albany with officials from the state Office of Children and Family Services (OCFC) to express their concerns. Agency officials said they would consider hiring peace officers to deal with violent students and establish a committee comprised of local residents and representatives from the two facilities to address issues and keep the public informed. Prior to last week, OCFS officials would not return phone calls, Murphy said.
"You can't have 300 people come out to a town meeting and do nothing," said Murphy, who worked at the Cottage School for two years in the 1980s as a teaching assistant.
Rivel said the Jewish Board is also proposing creation of a community council that would include its representatives, local residents and town officials to open lines of communication.
At last month's forum Mount Pleasant Police Chief Paul Oliva said for the one-year period ending May 17, there were more than 1,500 police calls to the two facilities: 725 at the Cottage School and 827 at Cedar Knolls.
Abinanti said an analysis of police call statistics is needed. For example, if three police cars are dispatched for one call it is recorded as three separate calls, he said.
Calls are also recorded when staff members, as legally required, inform police that a student has left campus, Abinanti said. However, students are not breaking any laws when that occurs.
"It's not a lockdown campus," he said.
Officials at the two facilities are faced with contradictory rules from OCFS and SED on how to control the residents and there needs to be consistency, Abinanti said.
Gaudette said he was willing to meet with the school's critics if discussions could be done without excessive emotion.
"It is my feeling that the current level of emotion is not conducive to a rational dialogue in that setting at this time," he said.
Rivel said he understood the residents' concerns and the board is addressing those concerns.
"However, we want to do so in a way that accurately reflects the situation and is fair to the kids we serve," Rivel said. "The reality is that in the last six months calls to the police and EMS has actually gone down by 59 percent."
Many of the youngsters are success stories. Rivel said 88 percent complete the program and return home in under a year. Many go on to local colleges.
Rivel said he wanted his facility to be represented at the June 10 meeting at town hall.
"We want to work more closely with Hawthorne residents and officials to dispel those misconceptions and to strengthen communication between us and the community," he said.