News Based on facts, either observed and verified directly by the reporter, or reported and verified from knowledgeable sources.
We are part of The Trust Project
Latimer Touts Westchester's Progress, Unity

Good morning! Today is Friday, April 22 (Happy Earth Day!), and you are reading today's section of Examiner+, a digital newsmagazine serving Westchester, Putnam, and the surrounding Hudson Valley.
Need to subscribe — or upgrade your Examiner+ subscription to enjoy full access to all of our premium digital content? Take advantage of our special FREE TRIAL OFFER.
Take Examiner+ on a test drive today at NO CHARGE for a full month. Enjoy full membership-level access to all of our premium local content, delivered straight to your inbox six times a week.
---
Publisher's Note:
Hey folks,
As a weekly publisher in print, with our hardcopy community newspapers, our coverage of news and events around the region is sometimes written and edited and ready to roll well before we publish it. Unlike daily newspapers, weeklies often chip away at their reporting and writing throughout the week, and then put the entire package together on a single production day. Of course, that space between daily and weekly newspaper news cycles has narrowed over the past two-plus decades, as even small weeklies do more and more to treat their websites as de facto daily newspapers, updating sites with not just the weekly coverage but also breaking news throughout the week. But even in 2022, the difference in the workflow between dailies and weeklies most definitely persists. So, with all that in mind, as a newsletter subscriber-only treat, we've decided to make more of an effort on Examiner+ to deliver you some of our newspaper coverage with countywide appeal before it hits in print while only excerpting a snippet of the coverage to our non-subscribers online. In today's iteration of that offering, you receive an early look at Westchester County Executive George Latimer's State of the County address with our quick recap of the presentation. Spoiler alert: The county exec doesn't quite promise another levy cut in 2023 but he commits to trying and hints at the likelihood. Latimer's announcement in the address about next month's Westchester County Airport master plan public engagement session also piqued my interest. More reporting on that when the time comes. 
Enjoy today's read. Also, make sure to be on the lookout early next week for part 2 of our special Examiner+-only special report about Empire Casino with our deep dive into the Westchester/Yonkers big bet on gambling. 
Write more soon,
Adam
---
"Here in Westchester, we are tough on crime. Don't let any other political nonsense tell you otherwise." — County Executive George Latimer
By Martin Wilbur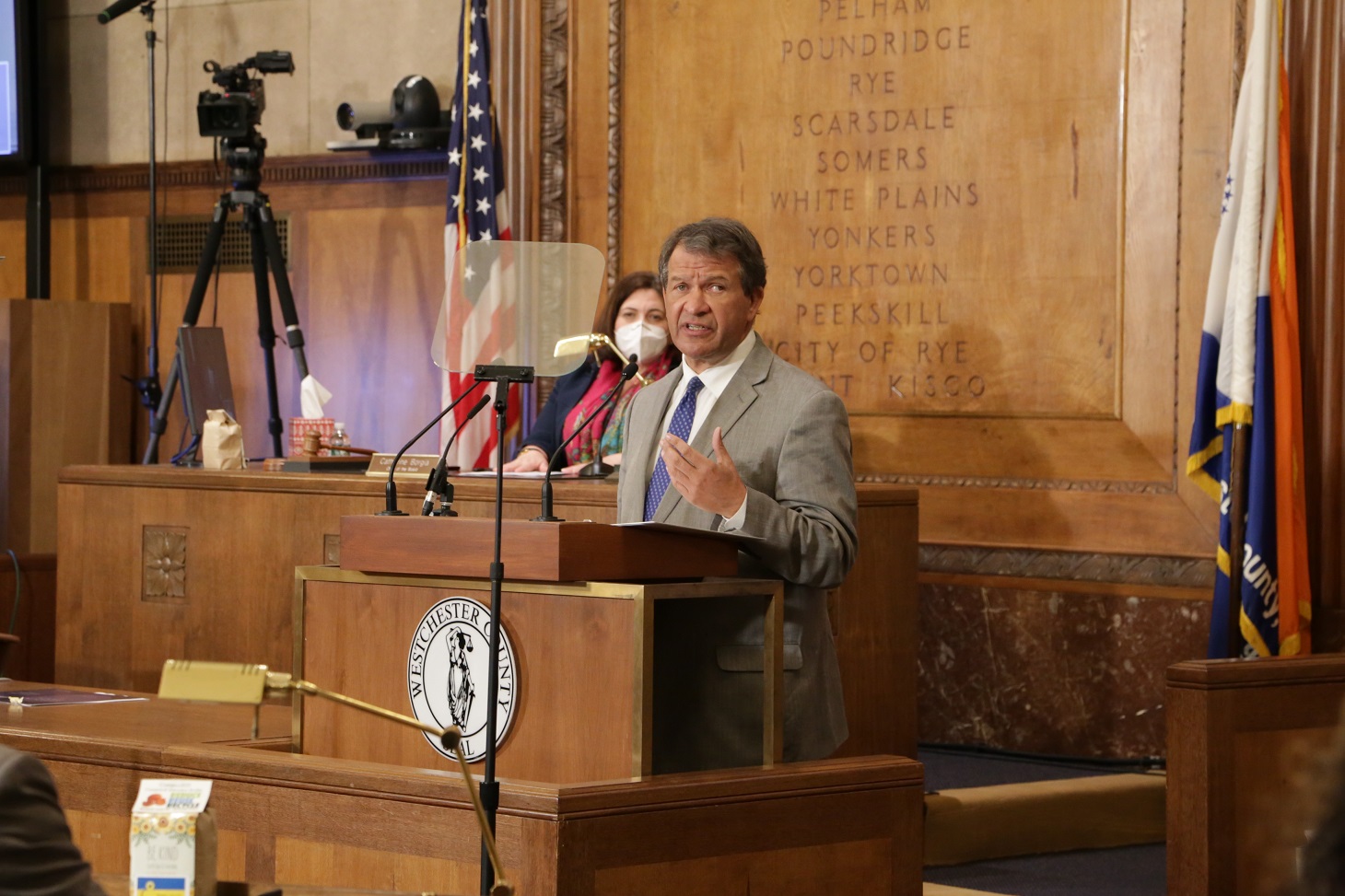 County Executive George Latimer characterized Westchester as a diverse, growing, safe and attractive destination for people to raise their families in his fifth State of the County address Thursday evening in White Plains.
In a more than hour-long address in the Board of Legislators' chambers that was interspersed with a handful of short videos, Latimer reviewed many of the achievements of his first term in office while mentioning a few upcoming and ongoing initiatives that will be addressed this year. 
He stressed that despite differences in culture, political persuasion, and disagreements on certain issues, Westchester residents look out for one another. That was particularly true during the past two years dealing with COVID-19 when the overwhelming majority of residents took recommended precautions seriously and nearly 90 percent of them got themselves vaccinated.
"So what is the state of our county, you probably ask?" Latimer said. "That's simple. While others are divided, while others swim in opposing tides, fighting currents and waves of destruction, we, the state of our county, is united."
Westchester remains one of the more popular places for families to settle, Latimer said. For the first time, the county eclipsed one million in population, a 55,000-resident increase from the 2010 Census. Its quality of schools, proximity to New York City, and pleasant suburban feel (and in some areas, rural feel) is a draw for new residents to put down roots.
"We know families are pouring into this county, we know homes are flying off the market and we know it because we see it on our own blocks," Latimer said.
Over the last four-plus years, there has been an increasing commitment to bring more affordable housing into Westchester, he said. Throughout the county, there have been new affordable units constructed and occupied in a wide variety of communities. More than 4,400 more units are under construction or have been approved.
For 2022, $50 million of county money was committed to providing incentives for developers to build more affordable housing, and $90 million over the past three years. However, Latimer conceded that still won't satisfy the demand.
"Our responsibility as a county government is to make sure that the opportunity for affordable housing is always there," he said.
Along with population growth, there has also been job growth, including several programs that have encouraged a healthy Westchester economy, Latimer said. The county launched the Advanced Manufacturing Career Training Program, a virtual six-month program where trainees learn new technologies to help them stay current in their skills in the constantly-evolving manufacturing sector.
It will also finance the Westchester County Association's Healthcare Talent Pipeline Program that will recruit, train and place up to 100 applicants with healthcare employers. 
There has also been success with the Launch 1000 Program which has provided entrepreneurs the chance to start businesses in Westchester. This year will see the kick-off of Launch 1000 in Spanish.
"So we are launching innovative economic development programs but we aren't raising taxes to do it," Latimer said. "We've got results, not rhetoric, and those results, yours as well as mine, was to cut the county tax levy by $7 million in the 2022 budget."
It was the third consecutive year there was a levy cut, and while Latimer stopped short of assuring another in 2023, he said if current projections hold "we will make every effort to continue this for next year."
Latimer touted Westchester's falling rate in the major crime categories, including some that are down more than 25 percent during the past four years.
"Here in Westchester, we are tough on crime. Don't let any other political nonsense tell you otherwise," Latimer said. "The numbers don't lie."
The county has been able to achieve that while supporting and implementing reforms from the Police Reform and Reimagining Task Force. So far, Westchester has implemented 34 of the 38 recommendations that the county has jurisdiction over. 
In the year ahead, the remaining initiatives will be integrated, including the use of the county Department of Public Safety's social media and greater community outreach, equipping all police vehicles and officers with dashcams and body cameras, respectively, and diversifying recruitment for the county police. 
Latimer said he kept his promise to revitalize the county's Human Rights Commission and signed the Anti-Discriminatory Harassment Bill, which expands the type of harassment that "can be prosecuted under the law. 
"Here in Westchester. we say gay, we say transgender because we also say love and acceptance," Latimer said. "In the end, love and acceptance are all that is left. And, this is, unfortunately, a tale we all learn at one point or another in our life."
Next month, the county will resume its public engagement on the Westchester County Airport master plan after a two-year COVID-induced hiatus, Latimer announced. The first session will be on Tuesday, May 24 at 6 p.m. at Pace Law School, with additional dates planned for June.
---
Martin Wilbur is the Editor-in-Chief of Examiner News. He has more than 30 years of experience covering local news in Westchester and Putnam counties, including a frequent focus on zoning and planning issues. He has been Editor-in-Chief of The Examiner since its inception in 2007.
Prior to that, he spent nine years as assistant editor at the former North County News in Yorktown Heights and also worked for the Daily Racing Form, the Reporter Dispatch in Putnam County, and Courier-Life Publications in his native Brooklyn.
Martin earned a bachelor's degree in History from Brooklyn College. He lives with his wife and two children in Montrose. He has been honored by the New York Press Association with statewide awards for news reporting, sports features, and editorial writing. 
Reach Martin by email at mwilbur@theexaminernews.com or connect with him on LinkedIn.
We hope you've enjoyed today's section of Examiner+. What did you think? We love honest feedback. Tell us: examinerplus@theexaminernews.com
---
For hyperlocal news coverage of Westchester and Putnam from our four community newspapers, visit our sister site, www.theexaminernews.com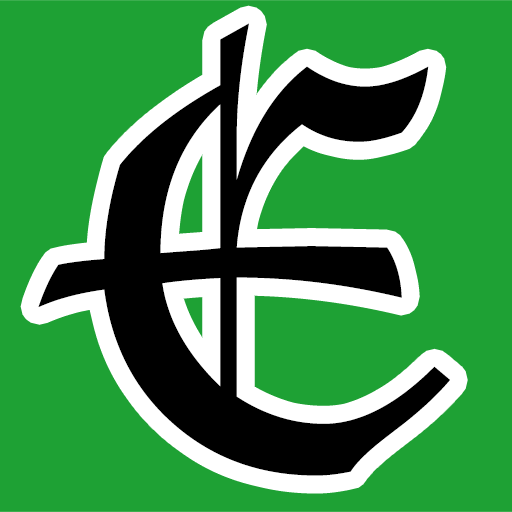 Examiner Media – Keeping you informed with professionally-reported local news, features, and sports coverage.