Stalker Arraigned for Trying to Kill Ex-Girlfriend
We are part of The Trust Project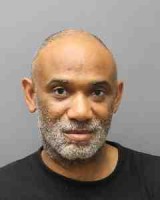 Sidney Brown (DOB 10/3/63) of Mount Vernon was arraigned in Westchester County Court this week on a seven-count indictment charging him with attempted murder, assault, stalking, child welfare endangerment, criminal possession of a weapon and aggravated harassment relating to the attempted murder of Deborah Henry.
On April 8, 2014 at approximately 6:30 p.m. in the parking lot of the Irvington Metro-North train station, the defendant accosted the victim and stabbed her repeatedly in the neck, torso, back, and thigh.
The attack was witnessed by numerous bystanders and the Irvington Fire Chief who intervened.
The defendant and victim had been domestic partners and have three children in common.
Both victim and defendant were admitted to local hospitals. On April 10 the defendant was discharged from Westchester Medical Center and arraigned in Irvington Village Court.
It was determined that the defendant had a number of open arrest and bench warrants in Mount Vernon and Yonkers for domestic violence incidents involving both his current wife and this victim.
"This indictment outlines a frightening course of escalating violence by the defendant including constant harassment, intimidation and stalking. Ultimately the defendant waited for the victim at a commuter train station and attacked her in full view of numerous witnesses, if it wasn't for the intervention of several good Samaritans, the outcome would have been much worse," said District Attorney Janet DiFiore.
The defendant's remand was continued. The case was adjourned to August 13, 2015.
The defendant faces a maximum sentence of 25 years in state prison.