Southeast Middle-Schooler Recognized for Bravery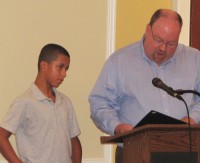 The quick thinking and quick actions of Southeast resident Joshua Nelson, who is about to enter the seventh grade this fall, saved his grandparents' home from totally going up in flames this past February.
Because of his brave and heroic act, Nelson was awarded a distinguished service citation by the Southeast Town Board at their meeting on Thursday, July 26.
Nelson, who is a Boy Scout with Brewster Troop 1, spotted smoke emanating from both the front and the rear of his grandparent's house and located the source of the fire in the tray of a wood-burning stove. Before the Brewster Volunteer Fire Department made it to the house, Nelson already had doused the flames coming from the stove with water.
Nelson's grandmother, Cindy Pankovic, later said that her grandson also made sure to get the family pet, Gus, out of the house to safety.
"He ran upstairs and pulled the dog out from underneath the bed," she said, noting that the animal had panicked and hid at the site of the flames. "We're so proud of him."
Councilman Robert Cullen, who presented Nelson with the citation, read aloud from it.
"Whereas Joshua Nelson has demonstrated his skills and abilities, exhibited characteristics of heroism and bravery and in so doing has averted a potential tragedy thereby preserving life and property," Cullen read, in part. "Now, therefore be it resolved that this Town Board shall…recognize and commend Joshua Nelson for his acts of bravery and heroism and express the heartfelt appreciation of the citizens of the Town of Southeast…[and] that this certificate of distinguished service be presented to him in recognition of his efforts to secure and enhance the public welfare of this town, all above and beyond the call of duty."
The citation also officially designated July 12, 2012 as "Joshua Nelson Day" in the Town of Southeast.