Sounds of Summer Ready to Rock at the Jacob Burns
We are part of The Trust Project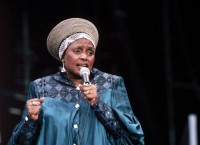 The Jacob Burns Film Center is going to be rocking this summer.
On Friday, the Burns kicks off its third annual Sounds of Summer series, showcasing new and classic music documentaries. The series, which runs for two months, features films about Paul Simon, Bob Marley, George Harrison and Swell Season, among other artists.
The selection of films as well as the audience has grown each year. Aside from the iconic names that are spotlighted, the series also focuses movies on lesser known musicians.
"It's not just about the big names," Programming Director Brian Ackerman said. "That's what's sweet about being able to do this series. You can go below the surface and find some really good music films and stories."
Some of the lesser known films include "Pianomania," about a highly regarded piano engineer, and "Inni," the story of a rock band from Iceland.
"'Inni' is really a fantastic film," Ackerman said. "It's very much the essence of what you want to get out of this series. 'Pianomania' is a window into a world that I never knew existed. You learn about the level of precision that goes into making an instrument."
Three films from famed director Martin Scorsese will be screened in the series, including his classic concert films "The Last Waltz," featuring The Band, and "Shine a Light" with The Rolling Stones. The film center will be also showing Scorsese's three and a half-hour documentary about George Harrison that originally aired on HBO.
"It's really something to see it on the big screen," Ackerman said. "It's this big, long and epic fantastic documentary about Harrison."
When putting together the series, Ackerman said he was looking at films that span the musical genres, including folk, rock and bluegrass. One film, "The Miner's Hymns," features images of miners set to pipe organ music.
"I don't even know how you classify that," Ackerman said. "We really do try to find a broad range of music."
Ackerman said watching a movie on the big screen that incorporates music well is a special experience for a film lover.
"It's something so comfortable when you're sitting in a movie theater and listening to music," Ackerman said. "It heightens the visuals. It's a lot of fun."
He hopes that audiences turn out to see the films featuring musicians they grew up with but also some of the off-the-beaten-path selections.
"It's easy to expand your musical tastes in a series like this," Ackerman said. "Let yourself appreciate the whole range of things that are out there."
Sounds of Summer runs from June 22 through Aug. 22. For more information on the series, including movies and dates being shown, visit www.burnsfilmcenter.org.