Somers Teen Honored with "Youth for the Dream" Award
We are part of The Trust Project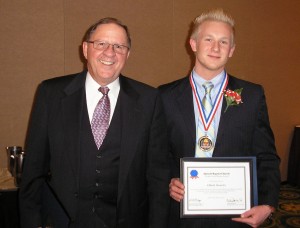 Five years ago, Somers High School senior, Elliott Kravits returned home from church the day before Martin Luther King Day, to discover messages of hate distributed in his quiet Amawalk neighborhood.  The racist flyers, sealed in zip-lock bags and put on resident's driveways, called for a movement to dishonor King's work and denounce the holiday. The event made a deep and lasting impression on Elliott and became a teaching point for his parents on the importance of unity, equality and giving back.
His life came full circle this past week, when Kravits was honored at the 34th annual Memorial Scholarship Banquet for the Reverend Dr. Martin Luther King held Jan. 6 at the Westchester Marriott. Kravits received the Antioch Baptist Church's "Youth for the Dream" award.
The award, given by Antioch's Pastor the Reverend Dr. Paul S. Briggs, is given to youth who actively exemplify King's dream by embracing the principles of unity, equality and justice through involvement in church, school and community activities. In addition to this award, Kravits was presented with a Congressional certificate of Special Recognition.
An active member of the First Presbyterian Church of Katonah, Kravits began volunteering on the Midnight Runs into New York City where he served soup and coffee to the homeless. He was encouraged not only to serve them, but to reach out, talk with them and listen to their stories. It was there that his passion for service took flight.
"Volunteering is my passion and I am thankful to my church family for their support and for the incredible opportunities I have been able to take part in" Kravits said.
Kravits has worked with organizations which include The Cook School of Leadership in Arizona, the Appalachia Service Project, and Bridges to Community, where he helped build homes and lay the foundation for a school in Nicaragua. He plans to return to the same village next month during his winter break. He is also active in fund raising for local organizations which include The Support Connection, Yorktown Teen Center, The Justin Veatch Fund and the Somers Relay for Life.
Kravits's future plans include attending a college which is not only strong academically, but also shares his commitment to fostering unity and one which values the importance of giving back.