Soldiers Receive Bronze Star Medals Eight Years After Combat
We are part of The Trust Project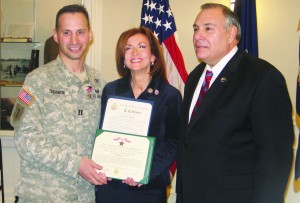 By Rick Pezzullo
Two New York Army National Guard soldiers can attest to the fact that good things happen to those who wait.
Captain Shawn Tabankin and Command Sergeant Major Arnold Stone, Jr., who served as platoon leader and sergeant respectively during combat service in Iraq in 2004, received the Army's Bronze Star Medal Friday at Camp Smith in Cortlandt, eight years after they were recommended for the distinguished honor.
"They don't give away the Bronze Star. You earn it," Army Lieutenant Colonel Joseph Biehler said. "It's a long time coming, but it's here."
Biehler said Tabankin and Stone led 30 soldiers over 300 combat patrols with the 2nd Battalion, 108th Infantry Regiment as part of Operation Baton Rouge. During the mission, more than a dozen explosive devices were destroyed before they could detonate.
Following their tour of duty, which ended in December 2005, recommendations were submitted for the two soldiers to be recognized but were never processed, triggering a lengthy administrative process that wasn't finalized until Congresswoman Nan Hayworth (R) of the 19th District was notified of the situation and wrapped up the red tape.
"This is an opportunity to right a slight," Lieutenant Jeffrey Slack said. "When things slip through the cracks sometimes it takes the power of elected representatives. Congresswoman Hayworth went out of her way to help."
Hayworth and Assemblyman Robert Castelli, a Vietnam veteran who represents the 89th District, were on hand Friday to give Biehler and Tabankin their medals.
"If you think of the thousands of lives that you touched and hundreds of lives that you saved, it's humbling," Hayworth told the soldiers.
Stone, who resides in Saranac, N.Y., said the efforts of his platoon and others in Iraq were necessary for the citizens there.
"It was a just war. We have a duty and a responsibility for the rest of the world," Stone said. "To be recognized at this point is very humbling."
Tabankin, a married father of two young children who lives in Bedford Hills, said the Bronze Star should be shared among all the soldiers who were deployed as part of Operation Iraqi Freedom.
"It absolutely represents the job our soldiers did. We had to make sure our soldiers were taken care of first," he said. "We knew it would come one day."
Stone and Tabankin won't have too much time to enjoy their medals as they and the rest of the 27th Infantry Brigade Combat Team will be deployed again later this winter.