We are part of The Trust Project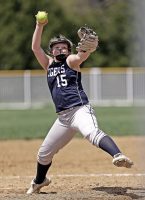 Lakeland Win Streak at Nine After Win over Somers
Becker Whiffs 18 in Mahopac Win; PV Stays Hot
By Tony Pinciaro
Four games into the 2018 season, LAKELAND was staring at an uncharacteristic record – 0-4.
The 2017 Section 1 Class A champions lost only one game last year, so the zero in the win column would be a cause for concern. Not so, according to junior P Claire Fon.
"We were still trying to work out the kinks," said Fon, Lakeland's No. 1 windmiller. "We lost six players to graduation, including five starters and our entire infield. We felt we weren't a team yet because we had had a new group, everyone was young and we were figuring out how to communicate.
"But our coaches helped us out and all the hard work we've been doing has been paying off."
Lakeland shut out intra-district rival, Panas, 2-0, for its first win of the season to snap the four-game skid. Since then, Lakeland has been on fire. The Hornets are riding a nine-game winning streak, after victories last week over Pelham (10-1), Eastchester (7-3), Somers (13-0) and John Jay-Cross River (11-7).
During this nine-game run, Lakeland has outscored the opposition, 88-15.
Along with the pep talk from Lakeland coaches Joe Chiara and Steve Fallo, Fon said the team became one.
"We started doing team bonding, hanging out together and talked about how we were feeling," Fon said. "We wanted to get a feel for everyone and by bonding, the communication has gotten so much better and it has brought us closer together."
The team bonding also coincided with Lakeland beating Panas, behind a Fon two-hitter. The Hornets followed it up with a 13-4 triumph over rival, Brewster.
"It boosted everyone's confidence," Fon said. "Everyone was really excited for the Panas game and it was a game we wanted to win. Now that we've won nine games in-a-row, all of our confidence is boosted to levels we never thought."
Lakeland has seven games remaining in the regular season before it begins defense of its title.
Lakeland kept steamrolling opponents last week, beginning with Pelham as Sabrina Reichelt collected three hits, scored twice and drove in four runs. Fon had two hits, including a home run, and three RBI and Krystal Badillo scored three runs. Fon scattered seven hits and struck out nine.
The Hornets used s six-run third inning to take control of Eastchester. Eighth-grader Stella Bale smacked a home run and had three RBI. Hannah Matusiak added two hits and two RBI and Badillo also had two hits and drove in a run. Fon allowed six hits and struck out a season-best 14.
Fon tamed a SOMERS' lineup that was averaging double-digit runs, limiting the Tuskers to just two hits and again, whiffing 14. Lakeland's offense ripped four home runs – Amber Lopez, Badillo, Bale and Fon, who finished with a team-leading four RBI. Lopez and Badillo each drove in two runs and 8th-grader Shannon Scotto and Bale had two hits and two runs scored, apiece.
Lakeland trailed John Jay, 6-3 in the second inning, before evening the score at 6-6. Lakeland took the lead for good with two runs in the fourth.
For the second consecutive game, Lakeland went yard three times – Badillo, Lopez and Bale. Lopez and Bale each had three hits and two hits. Ava Knopf and Badillo contributed two hits and three RBI apiece.
PUTNAM VALLEY went 2-1 last week, beating Byram Hills (17-2) and Pleasantville (6-0), but falling to Ardsley.
Emily McKenna and Frankie Reyes collaborated on a two-hitter against Byram Hills. Alex Waters had two hits, three RBI and three runs scored and Sophia Lord had a double and drove in four runs.
McKenna registered her first shutout of the season with a two-hitter and 14 strikeouts as the Tigers made Coach Rena Finsmith's return to her alma mater, Pleasantville, a happy one.
Finsmith, who starred for veteran Pleasantville Coach Gina Perino, said the two plan a scrimmage every year, but the weather did not cooperate. Fortunately, Finsmith had Pleasantville on the schedule.
"It's nice to go back home, visit Pleasantiville High School, see some teachers, if they are around, and, of course, get to coach against someone who taught me so much about softball," Finsmith said. "There was a moment in the game when Gina was saying something to her kids about using the tee and my girls were like, 'Wow, that sounds familiar.' I said, 'Yes, where do you think I learned it from?' It was a funny moment.
"I look forward to playing Gina because it's just nice to go back to where I really started to learn the game of softball. I was able to gain so much knowledge from her and take that with me, when I played in college and now as a coach. Throughout the season we will talk just about the nuances of coaching and it's nice to be able to turn to her for advice, considering her longevity and success in Section 1 softball."
Reyes went 3 for 3, with two RBI and two runs against Pleasantville. Keiko Waters, Sabrina Cross and Lord each had an RBI.
Putnam Valley is now 7-3, but Finsmith said the next two weeks will be difficult.
"We play back-to-back games against powerhouse opponents in Pawling and Westlake and then head into the following week playing every single day," Finsmith said. "We are going to be tested in the next two weeks, not only with great opponents, but having to physical and mentally prepare ourselves for the day in and day out of games."
BREWSTER dropped a pair of games to John Jay-Cross River, 17-8 and 9-6. The Bears are now 4-8 this season.
"We have shot ourselves in the foot defensively all season long, unfortunately." Brewster coach Lisa Delzio said. "John Jay played well and hit extremely well against us both games. We cannot afford that type of defense and pitching against a well-coached team like that. Despite our record, the girls have played hard all year long. Seniors Taylor, Francesca (Cioffi) and Karen (Lennox) have continued their solid play, as they did last year, offensively and defensively, and are having terrific seasons. We have had some moments of brilliance. We went to Eastchester and came from behind to win, 9-4. We played a great game against Mahopac and won 3-2.  Each and every game it seems we have that one inning that plagues us and they've all come back to get us. But, no one is giving up. We come to each game ready to give 100% and work on improving, and for that, I am very proud of them and their effort."
Eighth-grader Kate Katsetos had two hits, including a triple, a run scored and an RBI in the first John Jay game. Taylor Riccardi, Caroline Cherubini and Gabbi Dovi each had two hits and two RBI in the second John Jay game.
YORKTOWN played one game, thanks to Mother Nature not cooperating, and the Cornhuskers dropped a 3-2 verdict to Mamaroneck.
Angelique Serrano and Samantha Ricardulli each had two hits, including a double, and drove in a run. Erica Salveggi allowed one earned run and struck out six for the 8-2 Cornhuskers.
"It was a tough loss for us," Yorktown coach Ryan Iamurri said. "We kept getting runners on base, but couldn't get the timely hit. Erica pitched a great game for us and unfortunately, a couple of errors in the seventh inning really hurt us. Mamaroneck did a great job of putting the ball in play and capitalizing, which good teams are going to do."
MAHOPAC (6-4) frosh Shannon Becker continued her wizardry over Section 1 foes in the Indians' 2-1 win over Clarkstown South. It took 10 innings but the RHP Becker fanned 18 batters to earn the win. Beth Schum's walk-off hit drove in the game-winning run in the bottom of the 10th. Kim Astrologo also shined for the tribe. The Indians also took third place in the FDR Tournament.
RAY GALLAGHER contributed to this story